Dr. Bonnie Newsom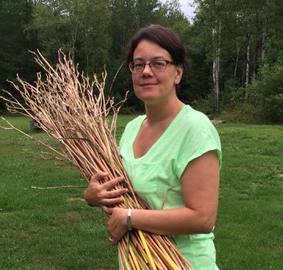 Assistant Professor of Anthropology
Ph.D., Anthropology, University of Massachusetts, Amherst, 2017
M.S., Quarternary Studies, University of Maine, 1999
B.A., Anthropology, University of Maine, 1995
Professional Interests:
I am an Indigenous archaeologist interested in the pre-contact lifeways of Maine's Native peoples. Most of my research has occurred within the Penobscot River Valley in Maine focusing heavily on Native peoples living during the Ceramic Period (ca. 3050-250 years ago). Through my research, I seek to humanize people in the past by exploring concepts of identity, style, social boundaries, and human agency. Most recently, my research has focused on population distinctions in pre-contact Maine through an analysis of potters' choices in the manufacture of aboriginal ceramics from Maine's coastal and interior settings. As a faculty member at UMaine, I will continue to build a portfolio of research dedicated to exploring some of Maine archaeology's most interesting and unresolved questions.
My archaeological experience in Maine includes working in the cultural resources management sector as well as serving as the Tribal Historic Preservation Officer for the Penobscot Indian Nation. These experiences provide me with a well-rounded knowledge of Maine's archaeological record. They also inspire my interests in historic preservation law, tribal intellectual property rights, Indigenous archaeologies theory and methods, and issues of cultural identity and cultural connectedness.
I have a strong interest in archaeological theory and understanding the foundational principles that guide archaeological research.  I am particularly fond of reading old archaeological manuscripts, not only to understand the history of a particular site, but also to understand archaeologists in an anthropological way. For me, the history, motivations, and experiences of archaeologists as people are important components of their archaeological interests and interpretations.
As a member of the Penobscot Indian Nation, my professional efforts generally include ways to create space for Indigenous voices. To that end, I worked to establish an archaeology program at Penobscot Nation and to establish solid working relationships with heritage professionals in the state and across the nation. I have also served on numerous boards and committees at both the local and national levels.  Currently, I serve as Chair of the Repatriation Review Committee for the Smithsonian Institution and was recently appointed to the Maine State Museum Commission.
Select Publications
Newsom, Bonnie D. (2020) Passamaquoddies and POW's: Archaeology of a WWII German POW Camp in Passamaquoddy Homeland (Article for Archaeology of Eastern North America under revision; book manuscript in prep)
Wheeler, Ryan and Bonnie Newsom (2020) Sacred Places and Contested Spaces in Maine: the Long Shadow of Bad Science in the Light of Repatriation in Sins of Our Ancestors (and of Ourselves): Confronting America's Archaeological Legacies, American Anthropological Association Archaeological Papers series (AP3A) (Under Revision)
Newsom, Bonnie D. (2020) Variation amid homogeneity: an examination of Early Ceramic Period technologies in the Penobscot River Valley of Maine, in The Far Northeast: 3000 BP to Contact University of Ottawa Press and the Canadian Museum of History (Under Publisher Review)
Newsom, Bonnie D. (2020) From THPO to PhD: Indigenous archaeologies, shifting social positioning, and the gray space between emic and etic approaches, in The Community-Based PhD: Complexities, Triumphs, Missteps, and Joys of Community-based & Participatory Action Research as Graduate Students, University of Arizona Press (Under Publisher Review)
St. Amand, Frankie, Terry Childs, Elizabeth J. Reitz, Sky Heller, Bonnie Newsom, Torben C. Rick, Daniel Sandweiss, Ryan Wheeler, (2020) Leveraging legacy archaeological collections as proxies for climate and environmental research. Proceedings of the National Academy of Sciences, 117(15), pp.8287-8294 (Peer Reviewed). https://www.pnas.org/content/pnas/117/15/8287.full.pdf
Newsom, Bonnie D. and Matthew James (2019) Beyond Grit and Shell: Evidence of Conifer Needle Temper in Archaeological Ceramics from Maine in Archaeology of Eastern North America Volume 47:135-155, October (Peer Reviewed).
Newsom, Bonnie D. (2018) Book Review, We come for good: archaeology and tribal historic preservation at the Seminole tribe of Florida: edited by Paul N. Backhouse, Brent R. Weisman, and Mary Beth Rosebrough, Gainesville, University Press of Florida, 2017, xvi+ 381 pp., 29.95 (paperback), ISBN 13: 978 0813064000.
Newsom, Bonnie D. Julie Woods, H. Martin Wobst, and Penobscot Intellectual Property Working Group, (2014) Developing Policies and Protocols for the Culturally Sensitive Intellectual Properties of the Penobscot Nation of Maine. Final Report, Community Based Initiative, Intellectual Property in Cultural Heritage Project, Simon Fraser University. https://summit.sfu.ca/item/16166
Newsom, Bonnie D. and Jamie Bissonette-Lewey (2012) Wabanaki Resistance and Healing: An Exploration of the Contemporary Role of an Eighteenth-Century Bounty Proclamation in an Indigenous Decolonization Process. Landscapes of Violence, 2(1), pp.1-8 (Peer Reviewed). https://digitalcommons.library.umaine.edu/cgi/viewcontent.cgi?article=1039&context=ant_facpub
Spiess, Arthur, Bonnie D. Newsom and Leon Cranmer (2008) Colonial Pemaquid State Historic Site in American Indian Places: A Historical Guidebook edited by Francis Kennedy. Houghton Mifflin Harcourt, Boston, MA.
Newsom, Bonnie D. (2007) Afterword to Life and Traditions of the Red Man by Joseph Nicolar (reprint) edited by Annette Kolodny, Duke University Press. https://digitalcommons.library.umaine.edu/cgi/viewcontent.cgi?article=1041&context=ant_facpub
Sanger, David and Bonnie D. Newsom (2000) Middle Archaic in the Lower Piscataquis River, and its Relationship to the Laurentian Tradition in Central Maine Maine Archaeological Society Bulletin, Volume 40:1, 1-22.
Dissertation:
 Newsom, Bonnie D., (2017) Potters on the Penobscot: An Archaeological Case Study Exploring Human Agency, Identity, and Technological Choice. Unpublished PhD Dissertation, University of Massachusetts, Amherst, https://scholarworks.umass.edu/dissertations_2/1085/
Recent Presentations:
 Kelley, Alice and Bonnie Newsom (2020) Maine Midden Minders: Racing the Clock to Document Cultural and Environmental Archives; Society for Historical Archaeology Conference, Boston, Massachusetts
Newsom, Bonnie D. (2019) Supporting Climate Change Resilience Through Indigenous Archaeologies:
A Case Study from Passamaquoddy Homeland; Climate Change Institute, University of Maine, Orono
Wheeler, Ryan and Bonnie Newsom (2019) Sacred Places and Contested Spaces in Maine: The Long Shadow of Science in the Light of Repatriation; Society for American Archaeology, Albuquerque, New Mexico
Kelley, Alice, Bonnie Newsom and Arthur Spiess (2019) Climate Change and Shell Middens, Creating Baselines for Future Decisions; Geological Society of America, Northeastern Section, Portland, Maine, March 2019
Recent Poster Sessions:
Kelley, Alice, Bonnie Newsom, Arthur Spiess, Anne Spezia, Kate Pontbriand (2019) Maine Midden Minder Network: Collaborating to Save a Cultural Resource. Society for American Archaeology Meetings, Albuquerque, New Mexico
Contact:
Tel: 207.581.2174
Fax: 207.581.1823
Email: bonnie.newsom@maine.edu
Department of Anthropology
University of Maine
5773 S. Stevens Hall
Orono, Maine 04469-5773