Using Socio-Economic Impacts to Inform Decision-Making on Dams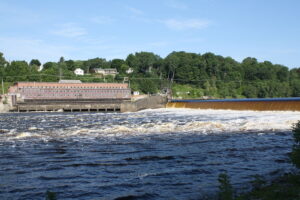 Institution: Bates College
Sponsor: Maine Water Resources Research Institute (2020)
20 Years of River Restoration in Maine: Using Socio-Economics and Benefit Transfer to Inform Decision-Making on Dam Removals
The year 2019 marked the 20th anniversary of the removal of the Edwards Dam in Augusta, Maine, the first federally licensed hydropower dam to be denied relicensing for the purpose of restoring anadromous fish species. Numerous dam removals have followed since, and important policy questions have emerged about their socio-economic impacts. While efforts to monitor ecological and biophysical status of these rivers both before and after dam removal have taken place, much less has been done to monitor the human dimensions of dam removal. With grant support from the Maine Water Resources Research Institute, a program of the Mitchell Center, the research team seeks to evaluate ongoing sustainability efforts on rivers in Maine by estimating the socio-economic impacts of river restoration efforts on the Kennebec, Androscoggin, and Penobscot Rivers while also training undergraduates in sustainability-focused decision-making.
With large-scale river restoration projects becoming more prevalent, new opportunities such as the Penobscot River Restoration Project (PRRP) have emerged to investigate key questions about socio- economic impacts. By generating novel, relevant information about the outcomes of the PRRP, this project will inform decision-making and strengthen the understanding of benefits deriving from river restoration.
Critical outcomes of the PRRP included returning 11 species of sea-run fish to their historic habitat by restoring access to about 2,000 miles of rivers and streams within the watershed, reestablishing lost ecological connections between inland waters and the sea, and reviving human interactions with the river and its resources. Over time, it is expected that these benefits will continue to grow and thereby sustain valuable ecological, economic and community dynamics. A critical factor for engaging community members in, and building support for, large-scale habitat restoration is demonstrating lasting value, including economic benefits. This study seeks to provide information on how these benefits have changed over time. Replicating earlier studies with new data will inform decision-making on future dam removals.
Comprehensive stakeholder engagement and collaboration between a variety of interests were critical to the success of the PRRP and other similar dam removals. Stakeholders including the Atlantic Salmon Federation, the Harward Center for Community Partnerships at Bates College, and Trout Unlimited are enthusiastic about continuing to learn about the socio-economic impacts and benefits of dam removals and have stressed the importance of building community engagement and education around river restoration. In particular, they see a need for more information to help demonstrate the full range of costs and benefits of river restoration projects, which is critical for stakeholder outreach and engagement. Understanding trends in restoration from the human dimension can add value to the decision-making processes about dam removal. Specifically, this study will:
Work with key stakeholders to identify and evaluate impacts of river restoration
Examine the socio-economic impacts of dam removal and river restoration efforts on the Androscoggin, Kennebec and Penobscot Rivers over the last 20 years
Measure the economic impact of dam removal on property values over time
Contribute to the knowledge of social science monitoring of river restoration projects
Research Team:
Team Leader: Lynne Lewis, Elmer W. Campbell Professor of Economics, Bates College
Consultant: George Aponte Clark, Source to Sea Consulting
Partners: