Understanding an Insect Threat to Maine's Hemlock Trees
Understanding the Relationships among Biodiversity, Forest Management, and Invasive Species Disturbance in a Forested New England Landscape
Institution: Unity College
Sponsor: National Science Foundation through the Sustainability Solutions Initiative
Once limited by extreme cold, the invasive hemlock wooly adelgid (HWA) is spreading north in Maine in the wake of recent mild winters. First reported in southern Maine in 1999, this destructive insect is advancing along the coast and has also been found on Mount Desert Island. Helping Maine landowners and agencies determine how to best manage forests in anticipation of this threat is the focus of an SSI project led by Amy Arnett, professor of ecology at Unity College.
Why This Project?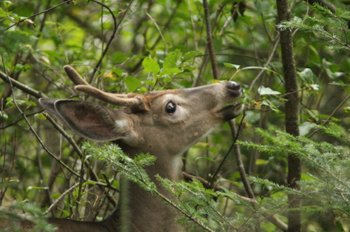 About ten percent of Maine's forested landscape is comprised of hemlock/red spruce cover type. Hemlocks provide critical habitat for game species such as white-tailed deer and ruffed grouse, which are among at least ten mammal and eight bird species closely associated with these trees. Hemlocks, which prefer moist soil and often grow along stream banks, also help keep trout streams cool and shaded.
The HWA, which kills hemlocks by sucking sap and depriving the trees of nutrients, has caused hemlock declines of 70 to 80 percent in some regions of the country. The loss of hemlocks in Maine is expected to have broad ecological, economic, and social implications. How these consequences will play out, however, is not known, which makes it difficult for foresters, landowners, agencies and other stakeholders to prepare for HWA infestations.
Connecting Knowledge with Action
Arnett's team has conducted extensive meetings and surveys with stakeholders to identify key questions and concerns. Based on these needs, the researchers are simulating an HWA invasion (by girdling hemlocks) and management (by logging) in test plots in hemlock-dominated forests in order to better understand the effects of hemlock loss on forest ecology. The researchers are using 10 test plots as an unmanaged control, 15 for girdling hemlocks, and 25 to study the effects of logging at different intensities on forest regeneration and wildlife. They also are investigating the role of white-tailed deer in forest regeneration and mapping hemlock stands in Maine in order to help foresters and biologists determine which areas are at greatest risk of infestation.
Arnett's team is collaborating with the Maine Forest Service to develop management guidelines for Maine woodland owners, which will be shared through brochures and other outreach efforts. In addition, the SSI team is collaborating with Maine Project Learning Tree to develop a high school curriculum for teachers and students to explore hemlock forest dynamics.
The team's research will ultimately contribute to a better understanding of both the ecological and socioeconomic changes that will take place with the decline of hemlock trees in Maine and provide landowners and managers with an array of management solutions.
Team Members

Amy Arnett, Ecology, Unity College (team leader)
Brent Bibles, Wildlife Biology, Unity College
Kathleen Dunckel, Computer Science and GIS, Unity College
Erika Latty, Botany, Unity College
Alysa Remsburg, Ecology, Unity College
Partners
Supported by National Science Foundation award EPS-0904155 to Maine EPSCoR at the University of Maine.