Biomass Energy Production in Northern Maine
_______________________________________________________________

Assessing the feasibility and sustainability of renewable energy production in the Aroostook River watershed through research and stakeholder partnerships
Institution: University of Maine Presque Isle
Sponsor: National Science Foundation through the Sustainability Solutions Initative
Agriculture in Aroostook County has declined by about 50 percent since the 1940s, leaving thousands of acres of former potato fields and other crop lands idle. Public and private entities are now looking to this land as a source of economic development for growing crops for energy, food, or animal feed. Jason Johnston, assistant professor of wildlife ecology at the University of Maine at Presque Isle, is leading an SSI team that is investigating the feasibility and sustainability of growing perennial grass on some of this land as a source of renewable energy for northern Maine and other regions.
Why This Project?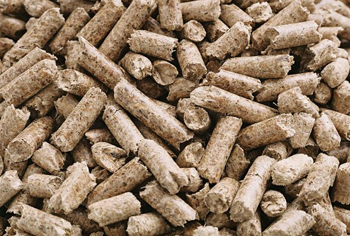 Aroostook County stakeholders including town planners, farmers, foresters, and agency scientists identified renewable energy as the region's most important driver of economic growth, landscape change, and environmental quality in a 2011 meeting with Johnston's team. One potential source of renewable energy in the region is perennial grass, which is planted, harvested, and made into bricks or pellets and used in boilers to heat buildings. The potential costs and benefits of developing grass biomass energy in this region, however, are unclear.
For example, converting former farmland no longer suited for crops into grasslands harvested late in the season may benefit grassland birds such as the Upland Sandpiper, which is threatened in Maine. On the other hand, concern exists over the potential invasiveness of some grass species grown for biomass, such as reed canary grass.
Other questions are emerging as well. These questions range from determining whether a market exists for grass biomass to figuring out whether new commercial enterprises are needed to get this product to market.
Connecting Knowledge with Action
Johnston's team is investigating key questions addressing the economic, social and ecological feasibility of grass biomass production in the Aroostook River watershed, which includes Presque Isle, Fort Fairfield, Caribou and other communities. The researchers are working to identify potential land and landowners, conduct economic assessments, determine likely ecological impacts, and examine how knowledge about the past can be used as a tool to lead discussions about future land use.
The team's findings will inform new tools and resources that community leaders, citizens, agencies, and other stakeholders can use to make decisions about grass biomass production in central Aroostook County. These resources include a map and analysis of potential areas to grow grass for biomass along with identification of interested landowners; management guidelines for landowners and municipalities; an assessment of ecological risks and opportunities; an economic analysis and feasibility study; and an analysis of past, present and future land uses for the agricultural region of the Aroostook River watershed. Ultimately, findings will provide local stakeholders with the knowledge and perspective to decide on the most appropriate and sustainable uses for their land.
Team Members
Jason Johnston (team leader), UMPI, Wildlife Ecology
Andrew Plant, University of Maine Cooperative Extension
Kimberly Sebold, UMPI, History
David Vail, Bowdoin College (emeritus), Economics
Chunzeng Wang, UMPI, Environmental Studies
Additional Resources
Biomass Energy Resources in the St. John Valley, Aroostook County, Maine: Landscape Implications and Sustainable Development Potentials
Institution: University of Maine Fort Kent
Sponsor: National Science Foundation through the Sustainability Solutions Initative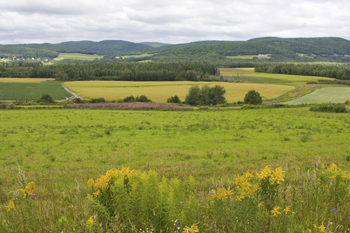 The SSI team at the Center for Rural Sustainable Development at the University of Maine Fort Kent is studying farmer interest in large-scale grass biomass production, as well as the economic and market feasibility of grass biomass in the St. John Valley.
The study will gauge whether there is stakeholder interest, opportunity and the required physical, human, financial, and technological capital to create and maintain a grass biomass industry in northern Maine, in order to offset the high cost of heating, and to add value to the economy of St. John Valley in a sustainable way.
Northern Maine  is largely dependent on oil for heat, which makes it vulnerable to fluctuating prices. Currently, about 10 percent of local household income is used for home heating.
These conditions raise a question about whether grass biomass, an annually renewable resource, could benefit the local economy for households and small business owners. With producer interest, the existing farmland in the largest rural county east of the Mississippi River could create a market niche.
Research on the project will be conducted by faculty and undergraduate student interns, along with collaborators from the University of Maine, the University of Maine Cooperative Extension, and local stakeholders.
The goal of this year's study is to determine market demand for a grass biomass industry, as well as producer capabilities. Previous work on the project resulted in two educational documentaries about grass biomass that will be used during consumer and producer outreach.
Undergraduate student interns will develop research questions, administer surveys, and lead focus groups to determine farmer perceptions and consumer interest. The interns will compile additional research to answer questions about what human, financial, physical and technological resources would be needed and to determine whether those resources exist locally, or can be imported.
Research into agricultural biomass yield estimates in Fort Kent, an essential part of determining market demand for grass biomass in northern Maine, was performed during last year's study. This year, interns will perform further research into land resources in the Valley.
The interns also will assist in performing further research into the economic feasibility of local machinery production for the grass biomass industry, as well as researching other alternative fuels, including the use of grass mixed with wood biomass.
Farmers and collaborators will work with the interns to assess the feasibility of using local banks and the farm credit system to provide start-up and working capital for production. They will work with potential industrial producers to find funding through other appropriate financial sources, such as the Northern Maine Development Commission and the Small Business Administration.
Research results from the study will be compiled and maintained at the Center for Rural Sustainability on the UMFK campus. The results will be disseminated, as needed, by stakeholders interested in grass biomass production, interested community members, and by university interests.
UMFK promotes the development and use of renewable biomass fuels as an important economic development opportunity for northern Maine. It is part of the University's broader vision to model sustainable economic and environmental practices.
This past spring, the University dedicated the first of two biomass (wood-to-energy) heating systems planned for the campus. That system will provide heat for 1.75 acres of floor space and is expected to save the campus nearly $1 million in the next decade. A second biomass plant is expected to be online in late 2014. That system will power nine buildings on the main campus, as well as building on the adjacent Fort Kent Community High School campus.
The Center for Rural Sustainable Development at the University of Maine at Fort Kent envisions a region of resilient, durable and prosperous communities in northeastern Maine, and beyond. Its mission is to guide sustainability efforts by providing academic resources and quality information for improving lives and livelihoods, and safeguarding cultural and natural heritage for the future.
Team Members:
John Martin (team leader)
Soraya Cardenas
Tony Gauvin
Partners
Supported by National Science Foundation award EPS-0904155 to Maine EPSCoR at the University of Maine.