Maine Bicentennial 2019-20
The bicentennial of Maine statehood is just around the corner, and our planning has begun! 
The statehood process allows us to explore important issues that are still pressing in Maine: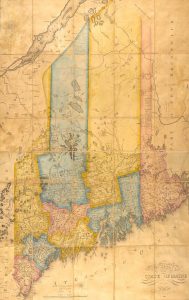 Do voting patterns for statehood reveal that there were "two Maines" and bitter partisan divisions at the very founding of the state?
What did the separation of Maine from Massachusetts mean for Native Americans and sovereignty in their homelands?
How did Maine statehood trigger national controversy about slavery vis-à-vis the Missouri Compromise?
What about international relations and the still uncertain border with Canada?
---
"Brainstorming the Bicentennial" public programs have been hosted in Maine from Portland to Madawaska.  These begin with brief presentations about the statehood process, and then open to audience discussion and local planning about how best to commemorate the state bicentennial in 2019-2021.  If you would like to host a public program about the bicentennial in your community or cultural organization, please contact Liam Riordan, professor of history at UMaine, at riordan@maine.edu.
---
Maine State Bicentennial and Statehood Commemoration Conference
The Maine State Bicentennial and Statehood Commemoration Conference will be held at the University of Maine and in Augusta on 
May 30 to June 1, 2019
. The scholarly conference will be open to the public for a nominal fee and seeks participation from pre-college students and teachers as well as cultural organizations. For more information and the Call-For-Proposals to present at the conference (due 
July 15, 2018
), please visit: 
https://digitalcommons.library.umaine.edu/me200/
---
Maine Bicentennial Resources
For more information about Maine Bicentennial plans, please email Liam Riordan (Professor of History, UMaine) at riordan@maine.edu.