Pre-Performance Lecture by Dick Brucher on Arthur Miller's "All My Sons"
February 9 @ 12:00 pm

-

1:00 pm

|

Free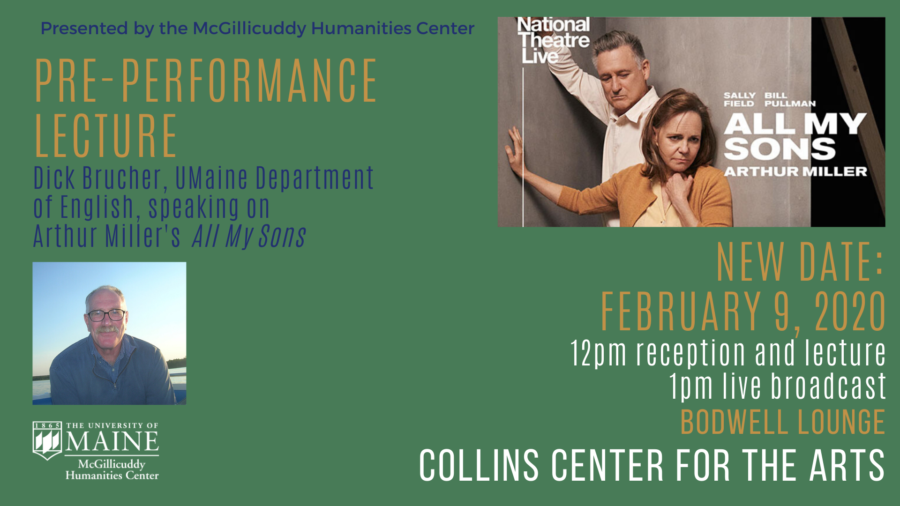 RESCDHEDULED FOR SNOW
NEW DATE: Sunday, February 9, 2020
12 p.m. reception and lecture (FREE)
1 p.m. show (WITH TICKET)
The McGillicuddy Humanities Center presents UMaine professor Dick Brucher, who will be giving a pre-performance lecture on Arthur Miller's play All My Sons on Friday, February 7 at 12 p.m. The play, which broadcasts live from The Old Vic in London following the lecture, stars Academy Award-winner Sally Field (Steel Magnolias, Brothers & Sisters) and Bill Pullman (The Sinner, Independence Day). Jeremy Herrin directs the cast, which also includes Jenna Coleman (Victoria), and Colin Morgan (Merlin) alongside Bessie Carter, Oliver Johnstone, Kayla Meikle and Sule Rimi.
Brucher on Miller's play:
Late in Arthur Miller's All My Sons (1947), factory owner Joe Keller asks what can be more important than family. It was for family, and under pressure from the Army Air Force for production, that Joe says he told his partner to ship faulty airplane parts that killed 21 American pilots during the war. That past decision, revealed in the present, betrays the Kellers' son Chris, an idealist and veteran, who insists that there is more to life than business profit and family loyalty. Miller domesticates corporate practice to create middle-class tragedy.
All My Sons is what Miller called a birds-coming-home-to-roost play, one in which retrospective action brings the past to bear on the present, and connects personal deeds and public consequences. Miller tried to make the play so untheatrical that audience members would mistake the world presented onstage for their own. Miller set out to capture—and to cause audiences to experience—the wonder in the fact that consequences are as real as the actions that cause them. This idea is as timely in 2020 as it was in 1947.
All My Sons was Miller's first big hit; and it has remained among his most popular plays, up there with Death of a Salesman (1949), The Crucible (1953), and A View from the Bridge (1955/56). My introduction to the NTLive streaming of the play will discuss its basis in contemporary (1940s) events, the influences of Henrik Ibsen's plays on Miller's work, and the experience of modern tragedy. The talk will raise a few problems in interpretation and staging, particularly regarding characters' motives and interactions.
What is NT Live?
National Theatre Live transmits the best of British theatre live from London to screens around the world. The broadcasts are filmed in front of a live audience, with cameras carefully positioned throughout the theatre to ensure cinema audiences get the best-seat-in-the-house view. Productions are transmitted via satellite to the Collins Center, then projected onto our high-definition screen — one of the largest in the state.