Activities
Our members work hard to make a difference in many different communities. Here are some projects past and present.
Fall Semester, 2023
Our annual MADV: march against domestic violence will be the afternoon of Friday, October 13, 2023; the first day of homecoming. Stay tuned for more details!
Spring Semester 2023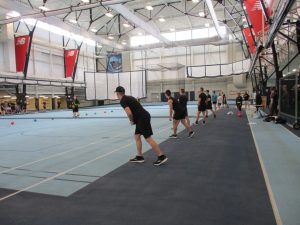 Our big event every spring semester is our annual "Heroes and Hope" dodgeball tournament to help Veterans.  This year it was held on Sunday, March 26 starting at about 12:30 pm in the UMaine Field House track area.  
Why? "We have lost more veterans to suicide than in direct combat in both Iraq and Afghanistan combined." MVP and SSD are working to stop or reduce those numbers!
With the tournament, bake sale, raffle, Go Fund Me and sponsors, we raised over $2200 that benefited:
Maine Veterans Project
Service Dog Strong
Fall semester 2022
We organized the annual march against domestic violence in collaboration with many organizations across and outside of campus including UMaine student life, athletics, Army ROTC and more as well as Partners for Peace!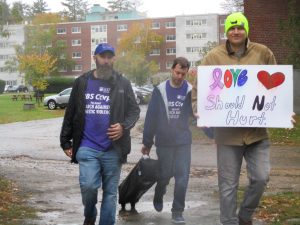 This year, the 9th annual MADV was on Friday, October 14,. We marched in the pouring rain along with our wonderful partners: Army ROTC, UMaine Athletics, Student life and many others, starting at the Stewart Quad and ending in the north pod of the union. We had wonderful speakers and worked to create awareness to stop domestic violence!
We also cook meals for families staying at the Ronald McDonald House:  Ella and Maddie made some delicious chicken fajitas for families whose children were in the hospital.