2019 September MFP e-news

Happy Fall from the MAIER's Family Partnership!
Hope you all enjoyed some rest and relaxation during the warm and sunny days of summer and are settling in to the routines and responsibilities demanded of us each fall. As we all settle in this month, we wanted to alert you of some upcoming events and opportunities especially for families impacted by autism spectrum disorders.
EVENTS
Check out MAIER's Event Calendar for Sensory-friendly events near you!
Are you ready to try something new? Join MAIER's Family Partnership (MFP) on October 26th from 1pm to 4pm at the Maine Bound Adventure Center on the UMaine campus to test your courage and skills on the indoor climbing wall. Specially trained staff and volunteers from the Adaptive Outdoor Education Center (AOEC) and the University of Maine will be on hand for this FREE adaptive climbing session just for families impacted by autism. Registration with MAIER is required to help us plan, so check out our event calendar listing for more information and register online here today! You can also contact Donna at MAIER with questions or to register: donna.doherty@maine.edu or call : 207-581-2468.
Saturday, November 2, 2019, the Autism Society of Maine (ASM) will be hosting their fall Autism Conference at the Black Bear Inn in Orono. This day-long FREE conference is designed with parents and caregivers in mind, but is open to professionals and interested community members as well. Dr. James Ball, Ed.D., BCBA-C will present "You can't make me: Proactive strategies for positive behavioural change" in the morning keynote, with breakout sessions being offered in the afternoon. Join MAIER's Deborah Rooks-Ellis, Ph.D. and Sarah Howorth, Ph.D. for their afternoon session on "Sexuality and Autism."   Opportunities to visit exhibits on state services and resources will be available starting at 8 am and throughout the day. Registration with the ASM is required, so for more information on this exciting conference, and to register for this event, visit the ASM website or call the ASM at: 1-800-273-5200.
Did you know the MAIER Professional Development Workshops are also open to parents, caregivers, and interested community members? We have all-day workshops planned for 2019-20, including workshops on assistive technology, developing social connectedness, strategies for student engagement, and developing written expression. Sessions run from 9 am to 3:30 pm with a registration fee of just $35/workshop.  Check out MAIER's PD page to learn more about these offerings and join us in 2019-20!
NEWS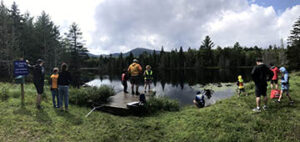 Outdoors for Everyone at AOEC
While the weather was not as cooperative as we had hoped, it didn't dampen the spirits of families, volunteers, and staff gathered at the Adaptive Outdoor Education Center (AOEC) on August 10th. MAIER's summer family event was co-hosted by the AOEC at the beautiful Carrabassett Valley and took advantage of the available facilities for fishing and hiking, and nature crafts and indoor games when the weather brought us inside. Thanks to all the families that braved the ever-changing weather with good cheer, and to our upbeat volunteers who helped make this day memorable! Check out our MFP news for photos and details of this fun MFP event!

Thanks to our help of our MAIER family partners, Marilyn Gott and Daniel C. Gott, D.O., we now have a new handout available to families and caregivers, "Adaptive Sports and Recreational Opportunities in Maine." As an active family, they know the importance of physical activity for overall physical and mental health, which can sometimes be a special challenge with children on the autism spectrum.
Dr. Gott explains, "In my 20 years as a family physician, I have observed the importance of maintaining a physically active lifestyle. Currently, the Centers for Disease Control and Prevention (CDC) recommendations for healthy living include one hour of physical activity each day. The State of Maine is a vast recreational region filled with opportunities to be physically active. We are fortunate to have numerous organizations offering adaptive services to those requiring accommodation so that everyone can be healthy and fit."  
Download a copy of this new handout, or contact MAIER for print copies, and share it with others to help spread the word! Interested in finding more fun things to do as a family? Visit our Places and Spaces page for our Maine Directory listings, Community Calendar of events, and tips and suggestions to support family members on the autism spectrum when visiting new places and spaces.
Best wishes to you and your family,
Donna
Donna Doherty
MAIER Family Partnership Director