Healthy Lifestyles Toolkit now available from MAIER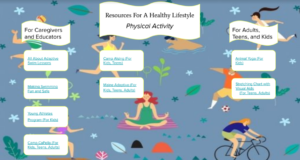 Getting a sufficient amount of quality sleep, meeting your body's nutritional needs, participating in physical activity, and understanding physical and mental self-care can all contribute to increased emotional, physical, and mental well-being and are all parts of living a healthy lifestyle. Teaching children, teens, and adults on the autism spectrum how to achieve and maintain a healthy lifestyle can often be challenging for parents and caregivers, and families searching for answers to their own questions are often unable to find meaningful materials.
The Maine Autism Institute for Education and Research is excited to announce the addition of a new resource to support individuals and families impacted by autism in developing new healthy habits for a healthy life. The Healthy Lifestyle Toolkit, developed by Sara Hunt, a recent UMaine graduate in Child Development & Family Relations, explores a myriad of resources befitting for parents, caregivers, educators, kids, teens, and adults! Within the toolkit, you will find direct links to social stories, strategies, training videos, and more pertaining to physical activity, nutrition, sleep, hygiene, and social/emotional wellness.
Be sure to check out all the resources developed by MAIER on our new webpage featuring videos, webinars, toolkits, print resources and projects to support family life on our MAIER Family Resources page.