Autos for Autism raises funds for MAIER's family programs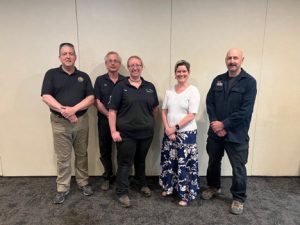 Local automotive businesses raised more than $7,000 for the Maine Autism Institute for Education and Research (MAIER) this year during the annual Autos for Autism event.
The fundraiser is spearheaded by the Mid-Coast Business Development Group (Mid-Coast BDG), an association of independent automotive service and repair shops in Midcoast Maine, along with NAPA stores throughout the state. The businesses seek to raise awareness of autism by posting fliers, sharing information and soliciting donations from customers throughout Autism Awareness and Acceptance Month in April.
The funds go to MAIER, a collaboration between the University of Maine College of Education and Human Development and the Maine Department of Education Office of Special Services, dedicated to improving outcomes for individuals with Autism Spectrum Disorder (ASD) through leadership, training, professional development, technical assistance, collaborative consultation, technology and research. The donations are primarily used to support MAIER's family partnership activities and resources.
"After being put on hold for a couple years due to the COVID-19 pandemic, we look forward to resuming our in-person family events in the fall of 2022, and the generosity of Mid-Coast BDG and their customers will go a long way toward making this possible," says MAIER director Deborah Rooks-Ellis, an associate professor of special education at the UMaine College of Education and Human Development.
Meg Lewis, VP of the Mid-Coast BDG, says the organization was thrilled at the response to this year's fundraiser.
"We completely exceeded expectations, and I'm extremely grateful to NAPA for stepping up this year," Lewis said.
Autos for Autism is now in its fourth year. This year's fundraiser brought in more money than the previous three years combined.