SMILE Boxes are Back!

We are excited to announce we will be partnering with the Adaptive Outdoor Education Center (AOEC) to offer SMILE Boxes to families that include a child or teen on the autism spectrum. A SMILE Box is designed by the folks at the AOEC for children and teens with autism to promote physical activity, social skills, and sensory exploration.
COST: $40 / box        This includes one box filled with fun games and crafts, video activities, parent resources, and more! You will also receive two monthly newsletters with additional links to activities to keep you busy all month long.
*We are offering a limited number of scholarships for families to receive a SMILE Box free of charge. If you would like to utilize this opportunity, select 'Scholarship' in the payment section of the AOEC registration form.
Order your SMILE Box directly from the AOEC here: SMILE Box Registration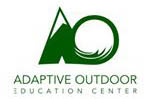 SMILE boxes will be delivered to your home in the first week of December and will be filled with different ways to make you SMILE, whether it be through fun games, getting active, crafts, or exploring new ways your family can connect through prompts and guided activities.
Learn more about the other exciting opportunities for adaptive recreation at the AOEC website.