Join MAIER at York's Wild Kingdom September 15th!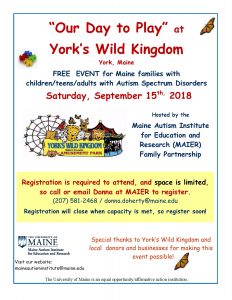 The Maine Autism Institute for Education and Research Family Partnership (MFP) is hosting an "Our Day to Play" event at York's Wild Kingdom September 15th, 2018. This day-long FREE event for families that include a child, teen, or adult on the autism spectrum will include entry to both the Zoo and the Amusement Park, and a picnic lunch. So join us for a day of fun while getting to know other families in our MFP.
Tickets are limited and registration will close once we reach capacity.
Update 8/17/18: Registration for this event is now closed as all tickets have been assigned. Hope to see you next time!