Marina Cucuzza, Graduate Student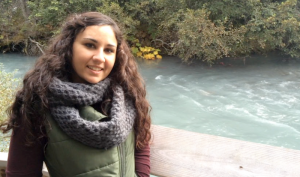 Marina Cucuzza graduated from College of the Atlantic in 2016 with a Bachelor's degree in Human Ecology and a concentration in Marine Sciences. For her dual Master's degrees in Marine Biology and Marine Policy at UMaine, she is exploring the role of governance in managing resilience in marine systems.
Her research evaluating Maine's municipal comprehensive plans for social ecological resilience indicators was catalyzed by her involvement in developing the town of Georgetown's Marine Resources section of their comprehensive plan (see Cucuzza et al. 2019, under the Lab Publications' tab). Marina's work at the individual scale assesses patterns of fishing license deployment in Maine's commercial fisheries to understand fishers' risk management behavior in response to changing socio-economic and environmental conditions. Her research also explores how co-management and ecosystem-based fisheries management can be integrated to enhance fisheries management and conservation outcomes. Marina's research is part of a larger project on coastal community resilience, co-led by her UMaine faculty advisors, Heather Leslie and Joshua Stoll, in collaboration with Maine Sea Grant, Maine Center for Coastal Fisheries, and the Maine Department of Marine Resources.