What is Maine Day?
Maine Day is an annual event that keeps the spirit of Maine Day alive whether you are on campus for Maine Day or celebrating from afar.
President Arthur Hauck, who established Maine Day in 1935, said that a successful Maine Day accomplishes three things:
The Campus, through work projects, becomes a more attractive place.
We foster the spirit of friendliness and cooperation which we like to identify as the Maine spirit.
We strengthen our loyalty to one another and to the University.
---
Maine Day Parade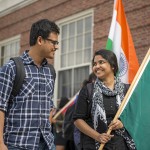 The day kicks off with a campus parade, followed by service projects throughout the morning. The Office of International Programs, International Students Association, and current international students have a long-standing tradition of participating in the parade every year!
Maine Day of Serving
The entire campus community  – students, faculty, staff, and alumni – pitches into spruce up the campus. The service project will start right after the parade. 
Follow Us
Find us on Facebook! We posted a lot of fun photos/videos from Maine Day! 
---
Maine Day of Giving!
Maine Day of Giving is a 24-hour fundraising event coordinated by the University of Maine Foundation, which coincides with Maine Day, the traditional day of service at the University of Maine. Whether you are currently on campus or not, you can participate in Maine Day by making a gift.
The Office of International Programs is participating in the Maine Day of Giving with our Fill the Stein Project.
What is the Fill the Stein Project?
You are giving to a student! We are fundraising for the Karen Boucias International Scholarship Fund, a fund that can be used immediately to provide financial support for undergraduate international students who have high financial needs and demonstrates high academic achievement. 
How can I participate?
Make a gift and help us spread the word! Yes, hitting that share button counts, too!