Karen Boucias International Scholarship Fund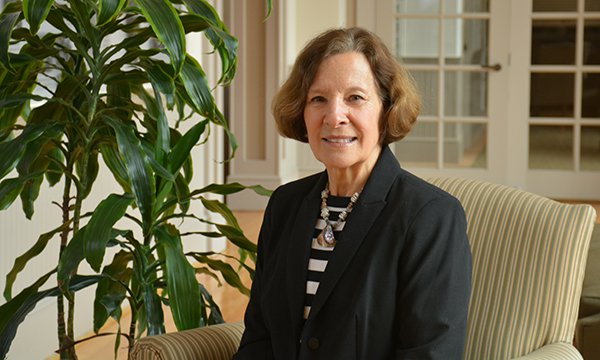 About the Scholarship
The Karen Boucias International Scholarship Fund was established at the University of Maine Foundation in 2018 in honor of Ms. Karen Boucias, who directed the Office of International Programs at the University of Maine for seventeen years. The raised funds will be used immediately to provide financial support for undergraduate international students who demonstrate academic achievement.
About Karen Boucias
Ms. Boucias graduated from the University of Maine and worked at other universities and colleges before returning to UMaine, where she was employed for thirty-three years. Because she had the opportunity to travel widely in her work, she experienced many cultures and brought back a world-wide view to UMaine. Throughout her tenure as OIP Director, Karen was dedicated to recruiting and retaining students from all over the world. She has great admiration for international students, their commitment to education, and their dedication to making outstanding contributions to their careers, countries and as citizens. She has been a member of numerous boards, including twelve years on the Board of Trustees for the American University in Bulgaria, which UMaine helped to create. She has had extensive professional experience within the areas of study abroad, establishing university partnerships and exchanges, immigration, and student and scholar services.
APPLICATION PROCESS
The scholarship is open to students who:
started as a first year student at the University of Maine in Spring 2023 or Fall 2022;
are admitted as a full-time, international undergraduate degree-seeking student at the international tuition rate;
completed high school outside of the United States and have not attended college in the U.S.;
have met English proficiency requirements for full-time admission to the degree program;
have a record of extra-curricular involvement and/or community involvement;
have high academic achievement.
Application Form: Submit your application here.
Application deadline: Sunday, October 29, 2023 at 5pm. 
---
2022-2023 Scholarship Recipients
Karun Varghese
Karun Manoj Varghese is a first-year Computer Engineering major at UMaine. He is an Indian born and brought up in the UAE and currently works as a research assistant at the Computer Vision and Robotics lab of the ECE department. He is an active member of the Black Bear Robotics club and the International Affairs club on campus. Karen shared, "It is with great gratitude that I accept this scholarship named after Ms. Karen Boucias and I hope that this fund will continue to be provided to students like me who are highly motivated to change the world by doing what they love to do."
Shashank Reddy Chintakuntla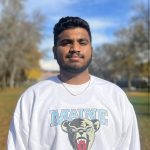 Shashank Chintakuntla is a computer science major with a minor in business administration from Hyderabad, India. He is a part of the Men's soccer club and various intramurals.  He works at the IT support center in the Fogler library.  He is also part of Greek life in UMaine. Shashank shared, "The Karen Boucias Scholarship was helpful in reducing the financial burden on me and my family. "
2021-2022 Scholarship Recipients
Ersilda Cako
Ersilda is a first-year student in Computer Science from Albania. Ersi, as she likes to be called, has already distinguished herself academically. She is involved in several clubs on campus, holds two campus jobs, and was selected to serve as a Resident Assistant for next academic year.  
Oyku Goktug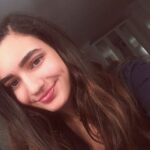 Oyku is a first-year student from Turkey majoring in Biochemistry and Honors with a minor in Neuroscience. She completed her high school in Ankara, the capital of Turkey. Oyku is already active in several campus clubs and is enjoying her time at UMaine. She was hired as an Maine Learning Assistant (MLA) for the Biology course and is currently presenting her research at the 2022 Center for Undergraduate Research (CUGR) symposium. She has been holding a job at the UMaine Online Course division.
Shreyash Parajuli
Shreyash  is a first-year student from Nepal majoring in Computer Science and Honors. He is already establishing himself as a student leader participating in various campus events and clubs. He works as a student assistant in the Office of Diversity and Inclusion. Shreyash was selected to serve as a Resident Assistant next academic year.
Siddhartha Bajracharya
Siddhartha is a first year student in Computer Engineering from Nepal. Sid quickly got involved at UMaine is an active member of the South Asian Association of Maine (SAAM), the eSports club and Intramural Soccer. He currently works at the IT support center located in Folger Library. From Sid: "
I really appreciate the Karen Boucias Scholarship as it really helped me out with my finances this spring semester."
---
Hear from UMaine International Alumni Why Karen is Important to Us
Lucie Hutchins'01
Karen Boucias played a crucial role in my academic journey at UMaine. In the Fall of 1999, I was awarded a full tuition waiver to study Electrical and Computer Engineering at the University of Maine. As a single mother of twin girls with very limited funds, the cost of living while a full time student was a big burden. Like many international students, I did not have the flexibility to earn additional income to support my family while pursuing my educational dream.
Thanks to Karen, in addition to the full tuition waiver scholarship, I was awarded a living expenses scholarship. This financial stability was the stepping stone to my academic success at UMaine.
Thank you, Karen!
Dominika Trzilova'16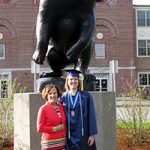 I first met Karen shortly after arrival on UMaine's campus in Fall 2012. Karen was then the Director of the Office of International Programs and oversaw the International Tuition Scholarship Program. As one of the scholarship recipients, I worked with Karen closely, discussing my plans for courses, credit load and my major. In Fall 2013, Karen moved onto a different position and it would have been easy for us to lose contact. However, I saw a great potential mentor in Karen and sought her out for advice on numerous occasions. Karen was always very happy to meet with me and talk about any concerns or plans that I had for the upcoming academic period. In the process, she truly became my mentor and we became close friends. We spent time together regularly, even outside of the university, and I had dinner with Karen and her husband in their home on many occasions. I was also excited when I got invited to their Sunday brunch outings at Bagel Central or spent one of the shorter breaks at their house. Finally, it was my honor to have Karen attend my graduation ceremony and celebrate this achievement alongside my family and friends.
Karen is one of the people whom I credit the most for my success at UMaine. We have stayed in regular contact past my graduation and I could not be happier to call Karen my mentor and friend.
Petya Veleva'10
I'll always remember Karen as a kind and caring person who loves UMaine and supports cultural diversity. Karen was part of many milestones of my UMaine journey – from my first day on campus to graduation. She stayed involved in all international student events and enjoyed learning more about each country represented on campus. Karen approached every student with the same care, enthusiasm, and genuine interest in helping them succeed and fulfill their dreams. I'm truly grateful to know Karen – she contributed so much to the UMaine community and made a positive difference in my life.
Ankita Tyagi'05, '07G
During my time as an undergraduate and graduate student at the University of Maine, I found my interactions with UMaine's Office of International Programs to be very fair and supportive. This could have only been possible if people at the helm understood the needs of the university's international student community. Needless to state, Karen Boucias, as director of  OIP, played (and continues to play) a significant role in shaping policies and using discretion to support international students academically and, for some, even culturally. I am grateful to OIP, Ms. Boucias (and Ms. Gal and Ms. Joughin) for all their help and support through my undergraduate and graduate coursework at UMaine.
Here's wishing OIP and Ms. Boucias many more years of great service.