New Project
Online Project Authorization Submission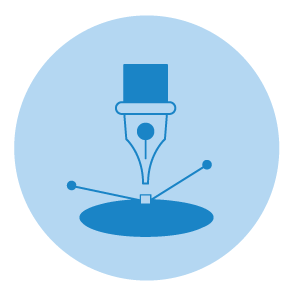 Click Here to Start a New Project
Click here to view a SAMPLE Service Agreement (PDF)
Click here to view a SAMPLE Research Collaboration Agreement (PDF)
User Guide
Welcome to the Office of Strategic Partnerships, Innovation, Resources and Engagement's (SPIRE) project authorization submission process. We hope this online service will provide quick, convenient and easily accessible information regarding your project submissions and projects that are run through our Department of Industrial Cooperation (DIC).
For this process, you will need to complete and upload a DIC Budget Sheet.
Additional helpful information on policies and rates can be found on the UMaine Office of Research Administration website.
To get started, visit our website at https://umaine.edu/inspire/faculty-resources and click on "Start a New Project" on the right-hand Quick Links Menu.
You can also login directly through: http://umaine.wellspringsoftware.net
Log in with your maine.edu credentials.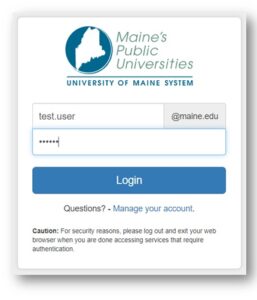 If you have issues with your single sign-on credentials, contact UMaine IT at help@maine.edu or (207) 581-2506.
On the Home Screen, click on Project Authorization Form.
The Project Authorization Form will open.  Add in the project staff, their employee IDs, percent share and click "Next".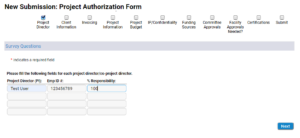 On the Client Information Screen, enter details about the client and click "Next".
On the Invoicing screen, enter the invoicing information and click "Next".
On the Project Information screen, enter the project details and click "Next".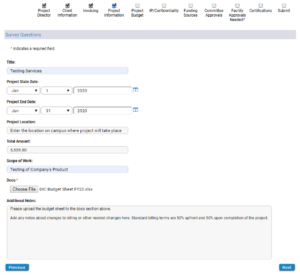 Enter in the total amount of the project, and upload the DIC budget sheet here.  Add any special invoicing details, if applicable.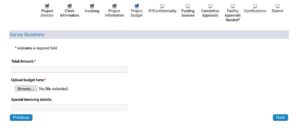 Complete the Intellectual Property and Confidentiality questions and click "Next".
Complete the Funding Sources and click "Next".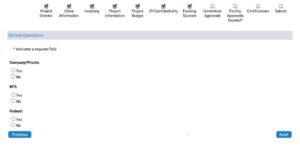 Complete the committee approval questions and click "Next".
Complete the Facility Approval section and click "Next".
Complete the final Certifications and click "Next".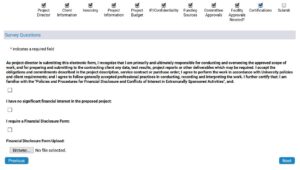 On the final submission screen, review your data and click "Submit".

Once submitted, your Project Authorization Form will be received and reviewed by our Department of Industrial Cooperation staff.  The client's information will be routed to the Office of Research Compliance (ORC) for screening against a federal restricted party list.  Upon approval from ORC, DIC staff will draft the project agreement and route it through DocuSign for review and signatures.
Click here to download this walkthrough: Wellspring Walkthrough New Project
If you have any questions, please call our office at 581-2201 or email um.dic@maine.edu.