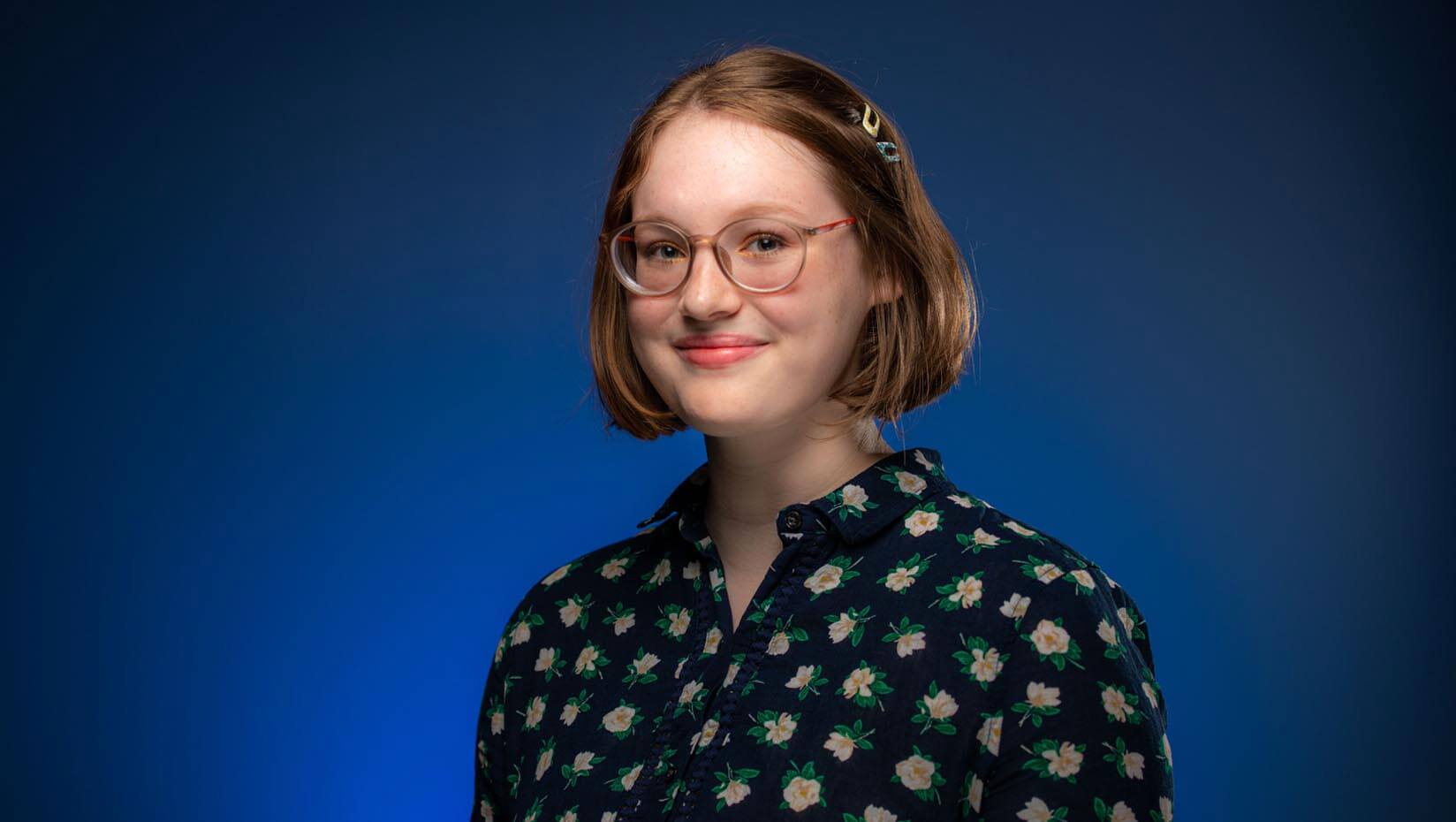 Sarah Glatter (2017) SELF Participant Excels at UMaine Computer Engineering and Mathematics Programs
Sarah Glatter: Focused on a future in STEM
Sarah Glatter always knew she would attend the University of Maine like her older brother and sister. While she hails most recently from Houlton, Glatter says she grew up "all over Maine." She remembers visiting her brother on campus when he was studying chemical engineering. Her sister completed her degree in food science and human nutrition, and is currently enrolled in a food science master's program.
Seeing her siblings succeed at UMaine, and becoming familiar with campus life through family visits made her college choice easy.
"At UMaine everybody knows everybody. But in a good way," she says.
That comfortable atmosphere was just one in a long line of attributes that sold her on UMaine.
Choosing her major was a much tougher decision.
"I came out of high school with a pretty strong computer coding background, which is a little uncommon," she says. "It was a really big choice between computer science and computer engineering."
In the College of Engineering, Glatter found "freedom and creativity" in the classes students could choose. She also appreciated the college's national reputation and the value of the annual Engineering Job Fair.
"My friends kept telling me it's uncommon for companies to come to a school basically to present themselves to students," she says. "But they come to UMaine for the job fair every year."
Now a senior, Glatter plans to enroll in the 4+1 master's program in computer engineering when she completes her undergraduate degree in 2022. And in spite of a chronic health challenge that can disrupt her studies and her life, she remains confident in her choices, and about her future.
"I have always wanted to be a teacher. My dream is to be a collegiate professor. In computer engineering there is one female professor and most undergraduates don't get to work with her," Glatter says. "I see a big need for female computer engineering professors and even female STEM professors. That's the path I'm on."
Another important thing she has learned at UMaine is that just like at home, people are willing to help.
"I have a heart condition, postural orthostatic tachycardia syndrome (POTS) that causes me to pass out, to get dizzy or become easily confused," she says. "But the university has great Student Accessibility Services. They help me with any accessibility issues for my classes and even for day-to-day life around campus. UMaine has showed me that while it's hard living life, even if you don't have a disability, there are nice people out there willing to help. It makes UMaine homey, you know, comfortable."
Glatter notes that her professors, the College of Engineering staff and her peers have always been ready to assist. From day one her adviser Nuri Emanetoglu, an associate professor of computer and electrical engineering, has served as her mentor and helped her chart a thoughtful academic course. Glatter credits Emanetoglu, one of her favorite people, with encouraging her to apply to the accelerated master's program, which she sees as an efficient path to achieving her goal.
For now, she's making the most of her undergraduate career, and has advice for other students who may find the curriculum challenging.
"I think this is important to know, particularly while you are in college. Yes, it is about studying, but students should strive to be well-rounded, especially in a rigorous field like engineering," she says. "I took a writing class, a biomedical engineering course, and even a pottery class.
"There are ways to fit these extras in a tough schedule. It makes you happier because you use different parts of your brain."
And sometimes it reveals a latent passion or hidden talent.
"I liked getting my hands dirty in the pottery class," Glatter says. "It was like playing in the mud. And we created some things that looked kind of professional. I did not know I had that in me!"
Glatter's affinity for applied learning is really no surprise. One of the things she loves about UMaine is that first-year computer engineering students have plenty of hands-on research and learning opportunities.
"As a freshman, you go right in with hand soldering, you go right in with circuit building," she says. "And there are tons of opportunities for first- and second-year students to get research internships that help prepare you for a graduate education."
She appreciates the way UMaine's engineering program builds on those early practical lessons, culminating in projects seeking to solve real-world problems.
"For our senior capstone, we actually build a product — an electrical product — and we have to go through the demo phase, the brainstorming, developing and meeting specs. Then there is the presentation of the product and evaluating the outcomes. It's like a mini job because you work on it for three semesters."
Glatter, who admittedly loves metaphors, likens engineering education at UMaine to learning math, where students are continually building on basic concepts.
"You start with addition, then you go to subtraction, then you move to multiplication, and they all build on each other," she says. "It's the same thing with engineering; it's like a great pyramid at the end and undergraduate education is the base."
As a student leader for the computer engineering department in 2020–21, Glatter capitalized on the opportunity to interact with the Dean's Advisory Council, gaining   unique insights about women in engineering and engineering education from beyond the classroom.
"As a female engineer, you have to be confident, but it doesn't mean that you have to know everything," she says. "It means that you ask questions of your professors. That's what they're here for, and that's how you grow. It means you ask for help from your TAs, and your classmates.
"Honestly, that is what engineering is. It's group learning. You're constantly working with others and that's how everyone succeeds."
Contact: Margaret Nagle, nagle@maine.edu