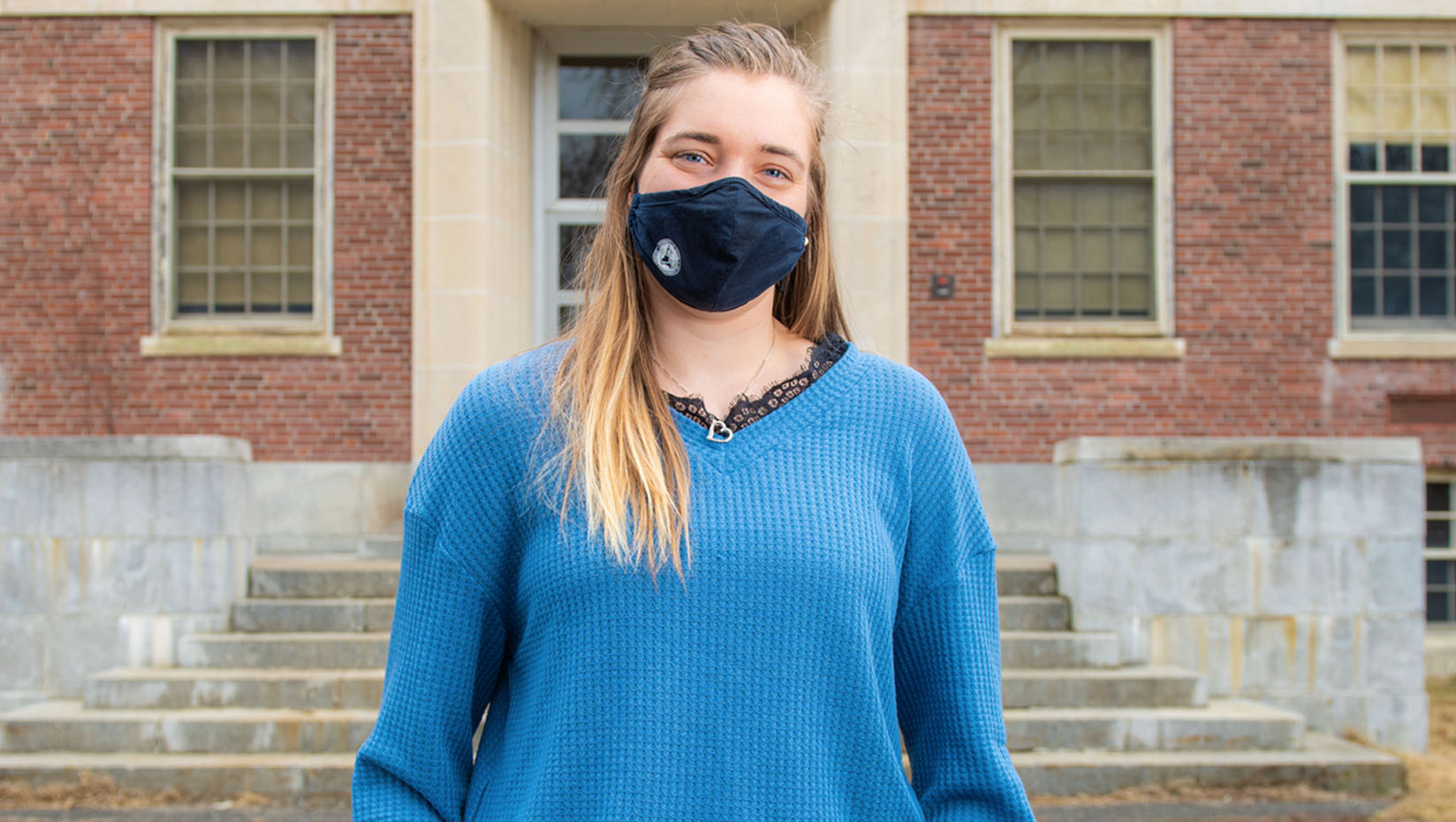 Madeline Blair: Society of Women Engineers rising star
University of Maine civil and environmental engineering senior Madeline Blair of Nazareth, Pennsylvania is the recipient of the Society of Women Engineers (SWE) award as a current and future leader.
The SWE WE Local 2021 Rising Star Award is presented to members with less than two years of experience, and who have demonstrated outstanding community engagement and leadership, and academic achievement.
Blair is a UMaine Presidential Scholar and Dean's List student who was valedictorian of University of Connecticut College of Pharmacy Class of 2019 and captain of the UConn Swimming and Diving team.
Since joining the UMaine community in 2019 as a transfer student, she has interned with Gorrill Palmer Consulting Engineers in South Portland, Maine, and served as an inspector for the Maine Department of Transportation. On campus, Blair is a student worker at the Advanced Structures and Composites Center. She also is a member of Delta Zeta Sorority and All Maine Women, and president of the UMaine Club Swim team.
Her community service includes STEM education presentations and outreach to University of Maine Cooperative Extension 4-H and the 2020 Engineering Expo.
This summer, she will intern with highway contractor Pike Industries in Sidney, Maine.
When she graduates in May 2022, Blair plans to work as a practicing engineer in either the transportation or structural fields, and pursue a professional engineer license.
We asked Blair to reflect on her UMaine student experience. Her responses follow:
What difference has UMaine made in your life and in helping you reach your goals?
UMaine has allowed me to start major-specific engineering classes right from the beginning. I have also met amazing people through my clubs and organizations that have helped motivate me and give me resources to succeed. Through the Society of Women Engineers, I was able to attend SWE's national conference (virtually) and meet women engineers from all over the country.
Have you had an experience at UMaine that has changed or shaped the way you see the world?
I joined a sorority my first semester as I was 9 hours from home and was living off-campus so I did not have the opportunity to meet other first-year students in dorms. It really helped me think of the larger impact I can have on the community. I also meet people of diverse and different backgrounds from my own which helped to expand my view of the world.
Why UMaine?
I had previous experience in the civil engineering field and decided to go back to school to study that. My younger brother was in his second year at UMaine so I had been to the school and knew I liked the campus so it was an obvious choice to transfer to. UMaine also has the only civil engineering program in the state that helps improve my chance of getting hired after graduation.
How would you define the opportunities for student success at UMaine? Is there any particular initiative, program or set of resources that helped you succeed?
The university has given me so many programs to take advantage of. They host an engineering-specific career fair during the fall semester which is how I got my internship for this upcoming summer. The Career Center on campus has great resources and an amazing staff that helped me improve both my resume and cover letter. Having places on campus to go for career advice has really helped me find internships and I know will also help me find a job when I am looking next year.
Have you worked closely with a professor or mentor who made your UMaine experience better?
My adviser, Roberto Lopez-Anido, has been a great help to me. As a transfer student, I couldn't follow the recommended course schedule as I had taken many of the general education courses and was hoping to graduate in three years instead of four. He helped work with me to create a schedule that would work and has been helpful as I consider what field of civil engineering to specialize in.
What advice do you have for incoming students to help them get off to the best start academically?
Don't be afraid to get out of your comfort zone. Join clubs and organizations in your major as it's a fantastic way to meet people who can study with you and know what you are going through. They are also able to link you to resources you can use. Joining SWE helped me meet so many other student engineers. Through my clubs, I learned about the career center and the tutoring program which are great resources for all students.
Contact: Margaret Nagle, nagle@maine.edu