Jennifer J. Perry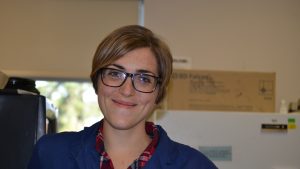 Associate Professor of Food Microbiology
Degree: Ph. D. 2010, The Ohio State University
Phone: 207.581.2940
Email: jennifer.perry@maine.edu
Location: 115 Hitchner Hall
DR. PERRY IS CURRENTLY SEEKING A GRADUATE STUDENT.  PLEASE CONTACT HER FOR DETAILS ON RESEARCH PROJECTS, STIPEND AND TUITION SUPPORT, ETC.
Website:
Professional Interests: 
Teaching: FSN 238 Applied Food Microbiology and Sanitation, FSN 438/439 Food Microbiology/Laboratory
Research: Advancing understanding of specific causes of microbial food spoilage, sources of contamination within the production chain, treatments and intervention strategies to mitigate product loss.  Enhancing the safety of raw foods with minimal quality degradation through application of non-thermal technologies, biocontrol and biopreservation. Furthering delivery of effective probiotic doses in food products by exploration of economical strategies for incorporation of cultures at high counts and elucidating product design parameters with significant effect on survival during storage.  Investigation of the effect of probiotic supplementation and dietary modulation on the composition of the bacterial and fungal communities in the GI tract, evaluation of differences in genomic and transcriptomic profiles.
Recent Publications:
Maxqwee, E, JJ Perry and K Lee. 2014. Flavor and appearance of whole shell eggs made safe with ozone pasteurization. Food Science & Nutrition. 2:578-584. 
Pena-Melendez, M, JJ Perry and AE Yousef. 2014. Changes in thermal resistance of three Salmonella serovars in response to osmotic shock and adaptation at water activities reduced by different humectants. Journal of Food Protection.  77:914-918.
Smith, AL, JJ Perry, JA Marshall, AE Yousef and SA Barringer. 2014. Oven, microwave, and combination roasting of peanuts: comparison of inactivation of Salmonella surrogate Enterococcus faecium, color, volatiles, flavor, and lipid oxidation. Journal of Food Science. 79:S1584-S1594.
Perry, JJ and AE Yousef. 2013. Pasteurization of shell eggs by heat or heat-ozone combination and effect of inoculum location and refrigeration on thermal resistance of inoculated Salmonella Enteritidis. Journal of Food Protection. 76:213-219.
Perry, JJ and AE Yousef. 2012. Salmonella Enteritidis in eggs: evolving concerns and innovative control measures. Advances in Applied Microbiology. 81:243-274.