SFA Faculty Listing
Robert Bayer, Animal Science
Timothy Bowden, Aquaculture
Stephanie Burnett, Horticulture
Beth Calder, Food Science
Mary Ellen Camire, Food Science
Robert Causey, Animal Science
Susan Erich, Plant and Soil Chemistry
Eric Gallandt, Weed Ecology
Jianjun (Jay) Hao, Plant Pathology
Mark Hutton, Vegetable Crops
Pauline Kamath, Animal Health
Dorothy Klimis-Zacas, Clinical Nutrition
Anne Lichtenwalner, Animal Science
Ellen Mallory, Sustainable Agriculture
David Marcinkowski, Animal Science
Renae Moran, Pomology
Angela Myracle, Human Nutrition
Balu Nayak, Food Science
Tsutomu Ohno, Soil Chemistry
Brian Perkins, Food Science
Jennifer Perry, Food Microbiology
Bryan Peterson, Horticulture
Greg Porter, Crop Ecology
Juan Romero, Animal Nutrition
Marianne Sarrantonio, Sustainable Agriculture
Denise Skonberg, Food Science
Martin Stokes, Animal Science
Susan Sullivan, Human Nutrition
Mona Therrien, Human Nutrition
James Weber, Animal Science
Adrienne White, Human Nutrition
David Yarborough, Horticulture
Kate Yerxa, Human Nutrition
Jianjun (Jay) Hao
Assistant Professor of Plant Pathology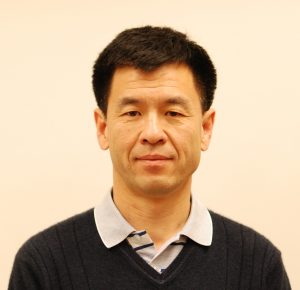 Degree: Ph. D. 2000, University of California-Davis
Phone: 207.581.2564
Email: jianjun.hao1@maine.edu
Location: 174 Hitchner Hall
Professional Interests: Epidemiology and management of potato diseases, soil microbial communities associated with soil and plant health, utilizing beneficial microorganisms to manage plant diseases
Teaching: PSE 457/557, Plant Pathology/Advanced Plant Pathology
Research: Epidemiology and management of potato diseases.Major diseases to be studied include bacterial ring rot (Clavibactermichiganensesubsp. sepedonicus), common scab (Streptomycesspp.), late blight (Phytophthora infestans), pink rot (Phytophthora erythroseptica), and powdery scab (Spongosporasubterraneaf. sp.subterranea). I am interested in studying soil microbial communities that are associated with soil health and plant health, utilizing beneficial microorganisms (or biological control agents) to manage plant diseases. Other approaches include chemical control and fungicide resistance, molecular tools to detect and quantify plant pathogens, varietal resistance, environmental factors that impact disease cycle and its management.
Recent Publications:
Meng, Q., and Hao, J. 2016. Optimizing the application of Bacillus velezensis BAC03 in controlling Streptomyces scabies. Biological Control. Accepted.
Jiang, H.H., Hao, J.J., Johnson, S.B., Brueggeman, R.S., and Secor, G. 2016. First report of Dickeya dianthicola on potato in Maine. Plant Disease. In press.
Torres-Londoño, G. A., Hao, J.J., Hausbeck, M.K. ECX- an R package for studying sensitivity of antimicrobial substances using spiral plating technology. Plant Health Progress. In press.
Qu, T.L., Li, J., Ji, P.S., Gao, S.M., and Hao, J. 2016. Synthesis and antifungal activity of 2-allylphenol derivatives against fungal plant pathogens. Pesticide Biochemistry and Physiology. In press.
Zhang, X.Y., Zhang, X.M., Jiang, H.H., and Hao, J.J. 2016. First report of Rhizoctonia solani AG-5 on buckwheat in Maine. Plant Disease 100: 1241. DOI: 10.1094/PDIS-09-15-1060-PDN.