SFA Faculty Listing
Robert Bayer, Animal Science
Timothy Bowden, Aquaculture
Stephanie Burnett, Horticulture
Beth Calder, Food Science
Lily Calderwood, Horticulture
Mary Ellen Camire, Food Science
Robert Causey, Animal Science
Susan Erich, Plant and Soil Chemistry
Eric Gallandt, Weed Ecology
Charlene Gray, Horticulture
Jianjun (Jay) Hao, Plant Pathology
Mark Hutton, Vegetable Crops
Pauline Kamath, Animal Health
Dorothy Klimis-Zacas, Clinical Nutrition
Anne Lichtenwalner, Animal Science
Robson Machado, Food Science
Ellen Mallory, Sustainable Agriculture
David Marcinkowski, Animal Science
Eileen Molloy, Human Nutrition
Renae Moran, Pomology
Angela Myracle, Human Nutrition
Balu Nayak, Food Science
Tsutomu Ohno, Soil Chemistry
Brian Perkins, Food Science
Jennifer Perry, Food Microbiology
Bryan Peterson, Horticulture
Greg Porter, Crop Ecology
Juan Romero, Animal Nutrition
Marianne Sarrantonio, Sustainable Agriculture
Denise Skonberg, Food Science
Martin Stokes, Animal Science
Susan Sullivan, Human Nutrition
Mona Therrien, Human Nutrition
Matthew Wallhead, Horticulture
James Weber, Animal Science
Adrienne White, Human Nutrition
David Yarborough, Horticulture
Kate Yerxa, Human Nutrition
Jianjun (Jay) Hao
Assistant Professor of Plant Pathology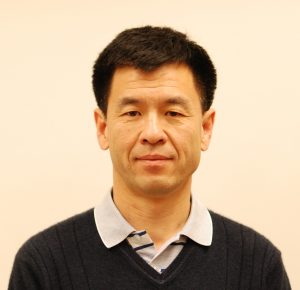 Degree: Ph. D. 2000, University of California-Davis
Phone: 207-581-2564
Email: jianjun.hao1@maine.edu
Location: 174 Hitchner Hall
Professional Interests: Plant-pathogen interaction, phytobiome related to plant health, biological control and fungicide resistance.
Teaching: PSE457 Plant Pathology / PSE557 Advanced Plant Pathology; SFA551 Infectious Diseases and Food Safety- From Plants to Humans.
Research: My research is focused on the epidemiology and management of potato diseases. Major diseases include bacterial soft rot and blackleg (Dickeya and Pectobacterium spp.), common scab (Streptomyces spp.), late blight (Phytophthora infestans),and pink rot (Phytophthora erythroseptica). I am interested in microbiomes that are associated with soil and plant health, and beneficial microorganisms (or biological control agents) for managing plant diseases. We are studying signal molecules that regulate the behavior of P. erythroseptica and factors inducing viable but nonculturable state that is related to bacterial dormancy.
Recent Publications:
Ge, T., Jiang, H.H., Hao, J.J., Johnson, S.B. 2017. First report of Pectobacterium parmentieri causing bacterial soft rot and blackleg on potato in Maine. PDIS-05-17-0659-PDN.R2.
Meng, Q., and Hao, J. 2017. Optimizing the application of Bacillus velezensis BAC03 in controlling the disease caused by Streptomyces scabies. Biological Control 62: 535-544. DOI: 10.1007/s10526-017-9799-7.
Zhang, C., Diao, Y., Wang, W., Hao, J., Duan, H., and Liu, X. 2017. Assessing the risk for resistance and elucidating the genetics of Colletotrichum truncatum that is only sensitive to some DMI fungicides. Frontiers in Microbiology 8: 1-11. DOI: 10.3389/fmicb.2017.01779.
Jiang, H.H., Hao, J.J., Johnson, S.B., Brueggeman, R.S., and Secor, G. 2016. First report of Dickeya dianthicola causing blackleg and bacterial soft rot on potato in Maine. Plant Disease 100:2320. DOI: 10.1094/PDIS-12-15-1513-PDN.
Meng, Q., Jiang, H., and Hao, J.J. 2016. Effects of Bacillus velezensis strain BAC03 in promoting plant growth. Biological Control 98: 18-26. DOI: 10.1016/j.biocontrol.2016.03.010.