SFA Faculty Listing
Robert Bayer, Animal Science
Timothy Bowden, Aquaculture
Stephanie Burnett, Horticulture
Beth Calder, Food Science
Lily Calderwood, Horticulture
Mary Ellen Camire, Food Science
Robert Causey, Animal Science
Susan Erich, Plant and Soil Chemistry
Eric Gallandt, Weed Ecology
Charlene Gray, Horticulture
Jianjun (Jay) Hao, Plant Pathology
Mark Hutton, Vegetable Crops
Pauline Kamath, Animal Health
Dorothy Klimis-Zacas, Clinical Nutrition
Anne Lichtenwalner, Animal Science
Robson Machado, Food Science
Ellen Mallory, Sustainable Agriculture
David Marcinkowski, Animal Science
Eileen Molloy, Human Nutrition
Renae Moran, Pomology
Angela Myracle, Human Nutrition
Balu Nayak, Food Science
Tsutomu Ohno, Soil Chemistry
Brian Perkins, Food Science
Jennifer Perry, Food Microbiology
Bryan Peterson, Horticulture
Greg Porter, Crop Ecology
Juan Romero, Animal Nutrition
Marianne Sarrantonio, Sustainable Agriculture
Denise Skonberg, Food Science
Martin Stokes, Animal Science
Susan Sullivan, Human Nutrition
Mona Therrien, Human Nutrition
Matthew Wallhead, Horticulture
James Weber, Animal Science
Adrienne White, Human Nutrition
David Yarborough, Horticulture
Kate Yerxa, Human Nutrition
Mary Ellen Camire, CFS
Professor of Food Science and Human Nutrition
Degree: Ph. D. 1989, Texas Woman's Un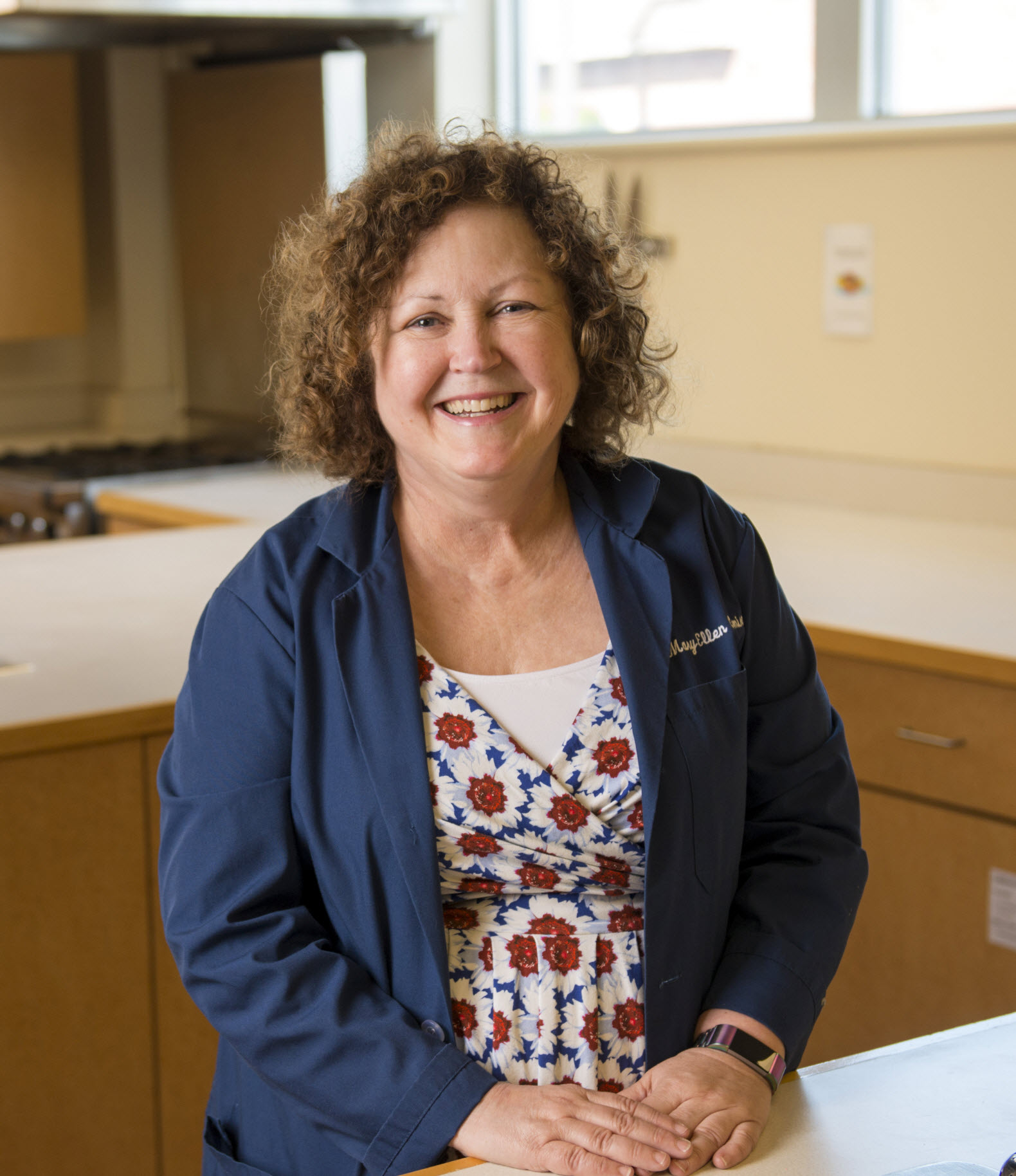 iversity
Phone: 207.581.1627
Email: camire@maine.edu
Location: 105 Hitchner
Website: https://sites.google.com/a/maine.edu/mary-ellen-camire-research-page
Professional Interests: Development, evaluation, and consumer acceptance of healthful foods; nutrition education and behavior; dietary fiber; satiety; sensory evaluation
Teaching: FSN 230 Nutritional and Medical Terminology, FSN 508 Nutrition and Aging,  FSN 524 Responsible Design, Conduct, and Analysis of Research, FSN 530 Functional and Integrative Nutrition, FSN 585/586 Sensory Evaluation  I/ll
Research:
My research spans the fields of food technology and human nutrition, including how processing changes nutrients and antioxidants in foods; ingredients and processing techniques to make foods more healthful and satisfying; and assessing consumer reactions to new crops and aquaculture products. I am engaged in promoting consumption of healthful food products and development of sustainable food production. As the director of the University of Maine Sensory Evaluation Center, I study consumer attitudes to many Maine commodities such as aquacultured foods including seaweed, potatoes, berries, grains and beverages. I have a strong interest in improving the nutritional status of older adults and disadvantaged individuals. My labgroup is also a participant in the validation of international dietary fiber and antioxidant analytical methods.
Recent Publications:
Wu VCH, Drummond F, Tadepalli S, Camire ME, Davis-Dentici K, Bushway A, Yarborough DE. 2017. Salmonella spp. dynamics in wild blueberry, Vaccinium angustifolium Aiton. World Journal of Microbiology. 4(1): 064-071. Open Access: https://premierpublishers.org/wjm/211220163784
Wells M, Potin P, Craigie J, Raven J, Merchant S, Helliwell K, Smith A, Camire ME, Brawley, S. 2017. Algae as nutritional and functional food sources: Revisiting our understanding. Journal of  Applied Phycology. doi:10.1007/s10811-016-0974-5 . Open Access: http://link.springer.com/article/10.1007/s10811-016-0974-5
Korczak R, Marquart L, Slavin JL, Ringling K, Chu YF, O'Shea M, Harriman C, Toups K, de Vries J, Klurfeld DM, Camire ME, Unnevehr L. 2016. Thinking critically about whole grain definitions: Summary report of an interdisciplinary roundtable discussion at the 2015 Whole Grains Summit. American Journal of Clinical Nutrition. doi: 10.3945/ajcn.115.126672 Open Access: http://ajcn.nutrition.org/content/early/2016/11/01/ajcn.115.126672.full.pdf+html
Ho, E.; Marquat, L.F.; Camire, M.E.  2016. Whole grains and health: Empowering dietary change. Food Technol. 70:47-51.
Ferk, C.C.; Calder, B.L.; Camire, M.E. 2016. Assessing the food safety knowledge of University of Maine students. J Food Sci. Ed. 15:14-22.
Camire, M.E. 2016. Chapter 23, Potato and human health, in Advances in Potato Chemistry and Technology, 2nd ed., Singh, J.; Kaur, L., ed. Cambridge, UK: Academic Press, p. 684-704.
Coffman MA, Camire ME. 2017. Perceived barriers to increased whole grain consumption by older adults in long-term care. Journal of Nutrition in Gerontology and Geriatrics. 36(4): 178-188.