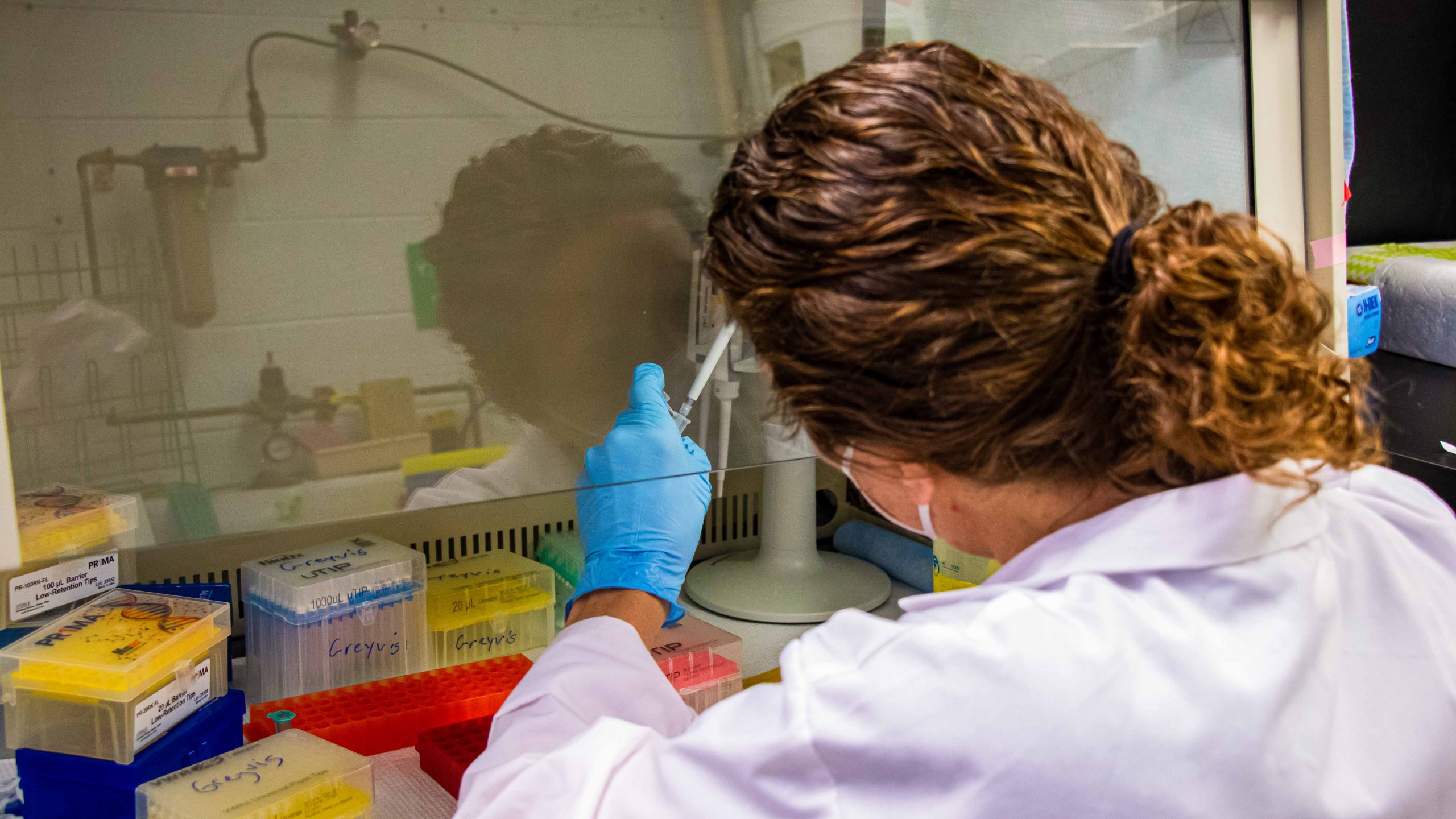 The eDNA CORE Lab and Building Maine's Research Capacity
By Daniel Timmermann
One of the most important parts of the Maine-eDNA 5-year, $20M NSF EPSCoR RII Track-1 grant, is the eDNA CORE Lab that has helped expand the state's research capacity. The lab, managed by Geneva York, is part of the University of Maine's (UMaine) Coordinated Operating Research Entities (CORE), led since 2020 by David Evanoff. "Our role is really to connect groups both in and outside of the University of Maine who have research questions so we can provide instruments, spaces, and facilities that allow them to further their research," explained Evanoff. CORE oversees a vast range of facilities at UMaine from electron microscopy labs, animal care facilities, all the way to performance art spaces. 
Maine-eDNA provided funding and support to establish the eDNA CORE Lab, which is able to provide eDNA services like water filtering eDNA extraction, qPCR and ddPCR analysis, primer development, next gen sequencing, and technical advice. The lab can currently process up to around 600 samples a month. As the grant and lab continue to develop and move forward, those eDNA services are expanding. Evanoff explained the relationship, "Maine-eDNA is a collective voice that says this research is a priority to us and Maine. Our job is to operationalize services that will help further Maine-eDNA's research objectives."
How this lab serves the state is important because even though Maine-eDNA was critical to its establishment, the lab will continue operations beyond the life of Maine-eDNA's five years. It will continue to serve researchers at the Maine Center for Genetics in the Environment (MCGE), UMaine, and a growing list of clients both in Maine and beyond. "One thing that is really telling is how the number of clients we've served has grown over the last three years. If you compare the first year to the second year, our number of clients grew by about 30 percent. If you compare the second year to the third year of operation, we more than doubled our number of clients," Evanoff explained. One of the lab's regular customers is the Maine Department of Transportation (DOT) who uses eDNA to test for Atlantic salmon whenever working on bridges and culverts so as not to disrupt the fish's migration and spawning habits. This kind of work relies on the eDNA CORE Lab to happen. 
To Evanoff, expanding the capabilities of the lab is important to providing Maine the research capacity it needs. "The eDNA CORE Lab is expanding research capacity by making resources available through a shared resource model. The goal is twofold, we want to provide state of the art resources and do it in a way that maximizes efficiency."
Peter Avis, Maine-eDNA's Undergraduate Research Coordinator is stepping in as the new CORE Director to continue the excellent growth and momentum that Evanoff established. Even after three years of growth, Evanoff notes, "The sky's the limit, we will  rely on our role to respond to research needs. We are really scratching the surface of what eDNA can do."