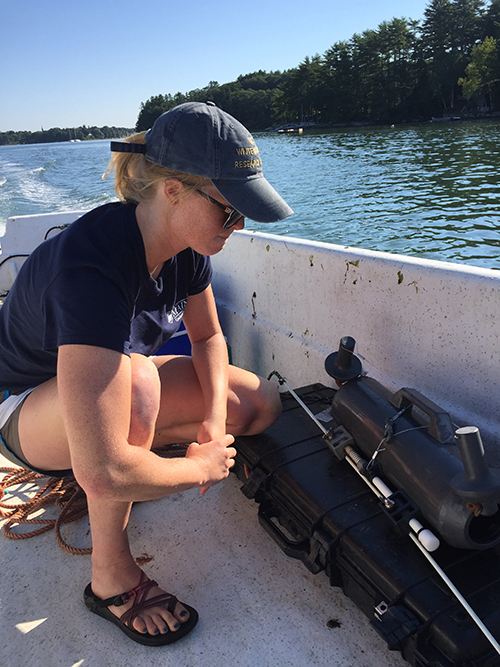 SEANET Undergraduate Internships Available
The University of Maine's Sustainable Ecological Aquaculture Network (SEANET) https://umaine.edu/epscor/seanet/ is seeking 3-6 interns to work as a team at the Darling Marine Center on various projects related to marine foodweb ecology and interactions with aquaculture in coastal Maine ecosystems. Internships are available for 3 months, starting May 18th through August 31st (starting and ending dates can be flexible).
Interns will work on a variety of projects that examine the ecology of estuaries with an emphasis on how estuarine ecology and oceanography interact with aquaculture systems. Interns will assist and lead projects related to: (1) examining drivers of primary production in Maine estuaries (including nutrients, light, and grazing), (2) monitoring physical and biogeochemical conditions in aquaculture growing areas including climate related properties (e.g., coastal acidification and seasonal cycles of productivity), (3) taking this understanding into the lab to examine acidification effects on aquacultured species, and (4) integrating this information with estuarine models that help aquaculturists and citizens make sustainable and profitable decisions about siting. Interns will assist with field collections of phytoplankton and zooplankton samples and measure physical variables in Damariscotta River estuary and Saco Bay. Interns will gain both laboratory, field, and modeling experience in various sampling and processing techniques used in marine ecology and aquaculture research. Interns will also gain first-hand experience in experimental design.
Requirements
Interns will participate in field-based activities that may be physically demanding and require long hours outdoors. Further, interns will participate in sample processing which will include long hours spent filtering water samples and/or working at a microscope. Interns will be required to stay at the Ira C. Darling Marine Center in Walpole, ME. Stipends of $3,000 will be provided to each intern. Please contact Dr. Damian Brady for more information at Damian.Brady@maine.edu.