Individual and Family Studies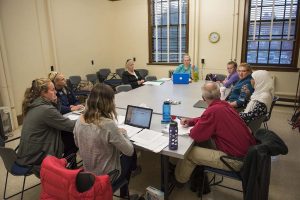 The Individual and Family Studies concentration in the Child Development and Family Relations major offers a set of core courses that provide a strong foundation for careers in fields such as social services, family planning and intervention programs.
Our nationally recognized program guides students in studying how people develop and how families form with an emphasis on interpersonal relationships, cultural diversity and public policy. We take a cradle-to-grave approach that explores individuals across their lifespan, from birth to aging to end of life. Our faculty members are affiliated with numerous professional organizations, including the National Council on Family Relations, the Society for the Scientific Study of Sexuality, the American Psychological Association, the National Association for the Education of Young Children and the American Association of Marriage and Family Therapists.
Students gain research skills and get hands-on experience through internships and field experience. Graduates will have a grasp of the basic theoretical and applied knowledge necessary for serving individuals and families. The Individual and Family Studies program is excellent preparation for professions such as family support worker, child/family advocate and case/care manager.
For Academic Fact Sheet information, including admission and major requirements, related to the Early Childhood Education concentration within the Child Development and Family Relations major please see the Fact Sheet.
For additional information about these majors, please contact:
Julie DellaMattera, School of Educational Leadership, Higher Education and Human Development director
julie.dellamattera@maine.edu
207.581.3118
118B Merrill Hall
University of Maine
Orono, Maine 04469