Leah Hakkola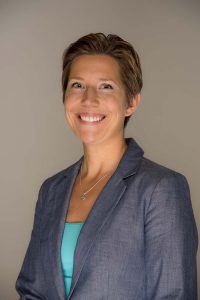 Assistant Professor of Higher Education
leah.hakkola@maine.edu
207.581.2416
331 Merrill Hall
University of Maine
Orono, ME 04469-574
Bio: Leah Hakkola graduated from the University of Minnesota with a Ph.D. in Organizational Leadership, Policy, and Development in 2015. Her current research examines how local, national, and global discourses about diversity are developed and conveyed to students in the higher education recruitment process. Leah's academic and career goals are guided by a passion to work as both a scholar and practitioner, focusing on how discourses about difference shape and are informed by educational policies and practices, and how these discourses affect student success. Leah enjoys bringing together a diversity of opinions, ideologies, and identities within a democratic framework of equity and social justice in her work. She has a broad range of experience in student affairs and higher education administration working for the Access to Success Program and for the Committee on Diversity and Inclusion in her career at the University of Minnesota. Leah also has extensive evaluation experience working on the University of Minnesota's Graduate Review and Improvement Process and in the Minnesota Evaluation Studies Institute.
Education
Ph.D., 2015, University of Minnesota – Twin Cities
M.A., 2010, University of Minnesota – Twin Cities
B.A., 2005, St. Olaf College
Courses taught at UMaine
HED 561: Developmental Theory in Higher Education
HED 562: Assessing Impact of College on Students
HED 598: Leadership and Change in Higher Education
HED 598: Intercultural Theory, Development, and Application in Student Affairs
HED 598: Global Perspectives in Higher Education
HED 610: Capstone Seminar in Student Affairs
HED 650: Social Contexts in Higher Education
HED 690: Internship in Higher Education Seminar
Sample publications
Hakkola, L., & King, J. (2015). A developmental approach to program evaluation in graduate education: A new take on an old process. Innovative Higher Education. (DOI) 10.1007/s10755- 015-9338-3.
Ropers-Huilman, R., Winters, K., & Hakkola, L. (accepted). Embodied minds: College women's experience in and around the panopticon of higher education. NAPSA Journal about Women in Higher Education.
Hakkola, L., Moon, D., & King, J. (2015). A how-to manual for the Graduate Review and Improvement Process (GRIP). University of Minnesota.
Hakkola, L. (under review) Deconstructing diversity in higher education student affairs: An analysis of diversity definitions and supports
Hakkola, L. (under review) Neoliberal diversity discourse in higher education: A critical race theoretical perspective.
Winters, K.T, Ropers-Huilman, R., Shahjahan, R., Osei-Kofi, N., Clegorne, N.A., & Hakkola, L. (October, 2012). Reimagining and enacting possibilities for social justice in the academy. Journal of Critical Thought and Praxis, 1(1), 99-116.
Winters, K., Hakkola, L., & Ropers-Huilman, R. (in process). Minding Bodies: Practicing Body Maintenance in Higher Education.
Follow Leah on Twitter: @LHakkola