Jason Canniff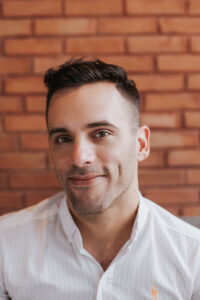 Program Coordinator and Lecturer, Peace & Reconciliation Studies
jason.canniff@maine.edu
Merrill Hall
University of Maine
Orono, ME 04469-5749
Bio: After an early career in hotel and restaurant management, Jason Canniff returned to school as a "non-traditional student" and never looked back. After completing undergraduate and graduate studies at UMaine, Canniff served as an adjunct professor in the English Department, and an assistant professor in the Honors College. After taking a few years off to travel, he returned to UMaine in 2021 as a lecturer in Peace and Reconciliation Studies, where he teaches Mediation, Forgiveness and Special Topics, and mentors graduate students.
While abroad, Canniff was a guest lecturer of applied English at the Vocational College of Universitas Gadjah Mada in Yogyakarta, Indonesia, an active member of the Southeast Asian startup ecosystem, regularly delivered brand identity workshops in Bali, and co-led personal development retreats in Costa Rica.
Peace Studies is a relatively new field, so he encourages students to join the latest conversations and contribute. In addition, he set courses up as labs that merge entrepreneurial and academic thinking, which helps students quickly locate a passion niche and begin directed research.
In 2011, Canniff won the Edna St. Vincent Millay poetry prize from the National Poetry Foundation. His creative work has appeared in Stolen Island Review and Maine Review; editorial work in Forbes, Huff Post, Business Insider, and Cultural Analysis (UCal Berkeley); and academic work at the Northeast Modern Language Association and Modernist Studies Association conferences, among other places. He's currently working on "I Used to be a Planet," a collection of essays confronting alt-right politics, entrepreneur cults, and the dark side of New Age post-humanism.
Education
M.A., 2013, English (Creative Writing and Poetry & Poetics), UMaine
B.A. Honors, 2011, English (Highest Honors), UMaine
Certifications
TESOL, Intensive English Institute, UMaine
Exponential Entrepreneurship, Entrepreneur's Institute, Singapore
iLAB Entrepreneurial Accelerator, Bali
Courses taught at UMaine
ENG 101, College Composition
ENG 212, Persuasive & Analytical Writing
HON 111, Civilizations: Past, Present, Future 1
HON 112, Civilizations: Past, Present, Future 2
HON 341, S/He: Folk Rituals of Gender
HON 341, Woke Wars & Worldviews
PAX 451, Mediation
PAX 591, Forgiveness
PAX 590, Poets of Instagram
PAX 590, Trouble in the Metaverse
PAX 590,  Writing for Peace
PAX 590, The Public Intellectual: Jordan B. Peterson
PAX 699, Masters Project Seminar
Other teaching experience:
Lead Mentor, iLab Entrepreneurial Accelerator, Bali
Mentor, GeniusU, Singapore
TESOL, M'Pay Bay Village, Koh Rong Samloem, Cambodia
TESOL, Private Students, Yogyakarta, Indonesia
Teaching Consultant, International English Center, Yogyakarta, Indonesia