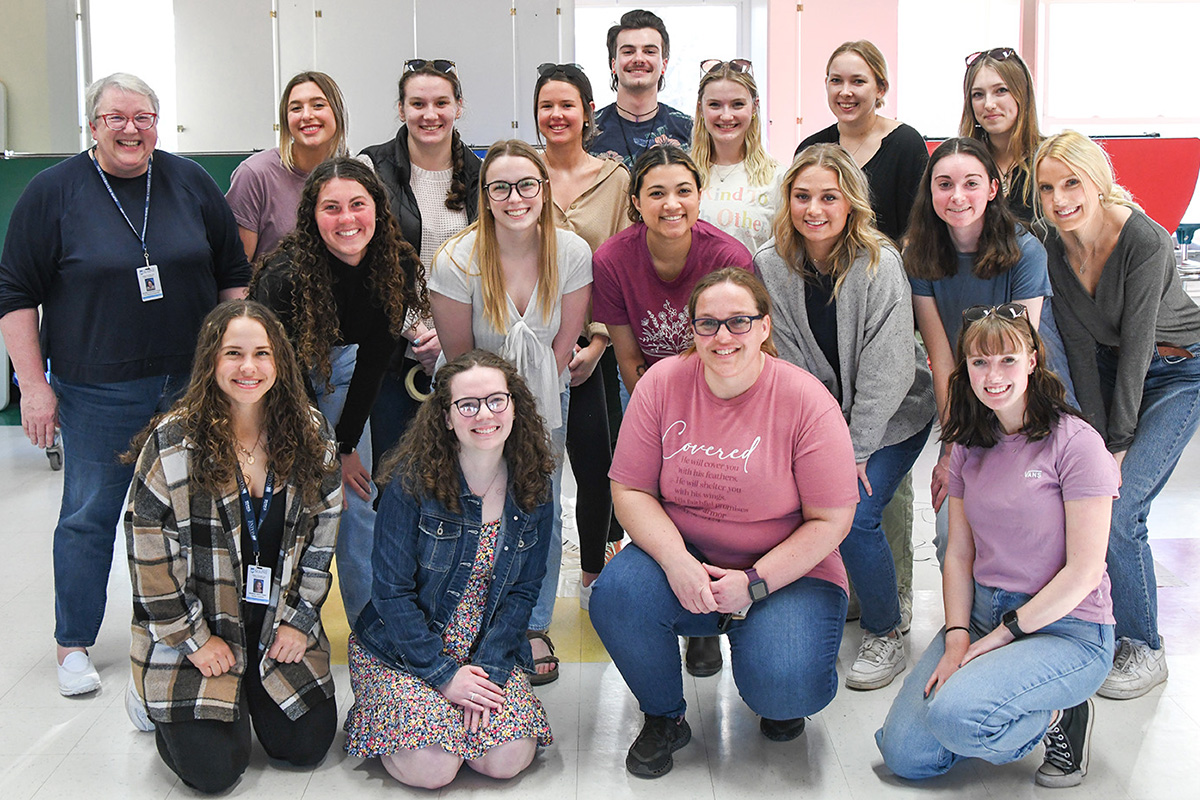 Literacy nights highlight UMaine's service to schools and families
On a recent Wednesday evening, Jerdon Kiesman and a couple dozen of his classmates from the University of Maine were in classrooms at Alton Elementary School, about a dozen miles up the road from Orono, playing word games with students and families.
"We played Sight Word Bingo," says Kiesman. "Sight words are common words that kids who are learning to read should be able to identify just by looking at them. The game is like bingo. But instead of a card with letters and numbers, it has different sight words on it. We'd call out a word, and the students were supposed to color it in on their sheet until they got a bingo."
Down the hall from Kiesman, UMaine student Gabrielle Langone was playing a game called Word Ladders with more children and families from Alton.
"We would put a word on the board, for example 'seed,'" says Langone. "And then we'd give them a clue: 'Change one letter to make it a word for something that you ride in the winter' and they were supposed to say 'sled.' The goal of the game was to work their way up the ladder, changing one letter until they got to the word at the top."
Langone of Lynnfield, Massachusetts is a junior double majoring in elementary education and child development and family relations with a concentration in early childhood education. Kiesman of Winterport, Maine is also a junior majoring in elementary education with a concentration in social studies and a minor in political science. They were among more than 50 UMaine students to help lead recent Family Literacy Nights held at both Alton Elementary School and Viola Rand Elementary School in Bradley.
The College of Education and Human Development has incorporated literacy nights at area schools into the curriculum for education majors for more than 20 years. It's an opportunity for UMaine students taking their literacy methods courses to apply some of the knowledge and skills they have picked up in the classroom and to gain hands-on experience working with K–12 students and families.
As an aspiring teacher, Langone says one of the main things she took away from her literacy night experience was the need to adapt on the fly.
"One thing we learn in class is that it's OK to change the plan if the clues aren't working or if you need to modify the game for the kids you have in the room," she says. "Even though our activity was targeted at third grade, we had kids who were older and some who were younger."
Education majors at UMaine have several opportunities during their undergraduate careers to do field experiences in schools or with K–12 students. For their first two years, that typically involves observation in public schools and other settings that provide education and related services to children and youth. For Kiesman, the literacy night was his first opportunity to practice hands-on instruction and to work with families.
"We had kids with one parent, some who came with two parents, some who came with their parents and a grandparent. So, it was an interesting mix," he says. "Part of the idea behind the literacy night is getting families involved, because the more you can make what they're learning in school relevant to their lives outside of school, the more engaged they will be in learning."
The Literacy, Language and Culture program in the College of Education and Human Development's School of Learning and Teaching puts an emphasis on literacy across the lifespan. To that end, the literacy nights also feature representatives from organizations that provide educational services to adults, such as the Riverside Adult Education Partnership and Literacy Volunteers of Bangor.
"It's about what families can do at home to promote literacy in a fun way, not doing worksheets or taking quizzes," says professor of literacy William Dee Nichols, who teaches two courses that feature the literacy night field experiences, ERL 319: Teaching Reading and Language Arts in Preschool to Grade 3 and ERL 320: Teaching Reading and Language Arts in Grades 4–8.
"The activities that our students are modeling shouldn't cost a lot of money," adds associate professor of literacy Susan Bennett-Armistead, whose ERL 319 students hosted the recent literacy night at Viola Rand school. "Families should be able to walk away from these events with new ways to spend time together and make memories that learners of all ages can enjoy."
Although they took place a few weeks before Maine Days, UMaine's weeklong celebration of community-building, service and philanthropy, Nichols and Bennett-Armistead note that the literacy nights are a great example of the university's support for local schools and communities.
"It's so important for our preservice teachers to interact with communities like this," Nichols says. "They get experience working with kids, and the schools get to engage families in some educational fun. It's a win-win."