Julia Feid: Outstanding Student in Teaching and Coaching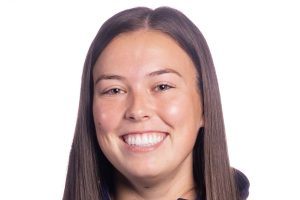 Julia Feid of North Attleboro, Massachusetts is the 2023 Outstanding Student in Kinesiology and Physical Education, Teaching and Coaching Concentration. During her time at the University of Maine, Julia competed in the javelin and shot put for the Black Bears track and field team, serving as team captain during her senior year.
Hometown: North Attleboro, MA
High School: North Attleboro High School
Parents: Jason and Leslie Feid
Special thanks I'm honored to be representing the teaching and coaching majors for the University of Maine. I want to thank all of my classmates, my family (Jason, Leslie, and Colby Feid), my track and field teammates and coaches, and my professors and advisors for playing such a large role in my past four years at UMaine. I wouldn't be the future educator and person I am today without all of your help along the way.
Favorite UMaine memory: A few of my favorite memories from UMaine are teaching alongside my classmates in local schools, going through the student teaching process and being able to connect with students in my schools, and last but not least the many track and field meets I have competed in alongside my teammates.