Ally Johnson: Outstanding Graduate Student in KPE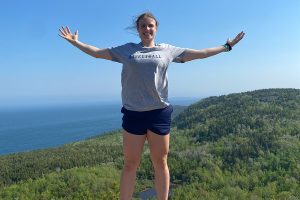 Ally Johnson of Milwaukee, Wisconsin is the 2023 Outstanding Graduate Student in Kinesiology and Physical Education (KPE). She completed her bachelors degree in KPE at the University of Maine and has been a graduate student in the School of Kinesiology, Physical Education and Athletic Training for the past two years. Ally has been a teaching assistant for Jen McNulty, senior lecturer in health education and lifespan, for the past year. She has enjoyed being an educator for the Lifetime Fitness Lab during the spring and fall semesters. Ally had the opportunity to educate health and physical well-being through seven dimensions of wellness and provide student support to ensure safety and quality learning.
The KPE graduate program has given Ally the opportunity to intern at the strength and conditioning program through UMaine Athletics and develop a deeper understanding of teaching and coaching. Ally has been a team member on the UMaine Women's Ice Hockey team for five years while serving as a captain. The UMaine community has served Ally well and will set her up for success to be a future strength and conditioning coach.
The students and staff at Lengyel Hall have been instrumental in Ally's educational experience and growth as an individual. The opportunities to teach, connect and learn has been a molding block for the future!