KPE major Smith earns America East Player of the Year, All-Academic Team honors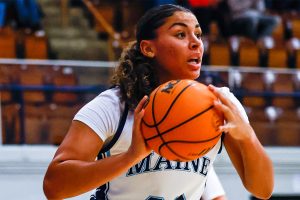 Adrianna (Adi) Smith, a kinesiology and physical education major, has been named America East Women's Basketball Player of the Year, the league announced this week.
A sophomore from Reston, Virginia, Smith also earned a spot on the America East All-Conference First Team and the All-Academic squad. She becomes the ninth Black Bear in the history of the program to earn Player of the Year honors and the third in as many seasons after Anne Simon and COEHD graduate Blanca Millán '21 each earned the honor for Maine in the past two years.
More information about Smith's outstanding basketball season can be found on the University of Maine Athletics website.