College of Education and Human Development holds inaugural Legacy Tea
Current and former faculty, staff and students from the University of Maine College of Education and Human Development gathered at Buchanan Alumni House on Wednesday, August 31 for the college's inaugural Legacy Tea.
The event celebrated the contributions of retired colleagues toward the college's pursuit of excellence. It also served as an opportunity to showcase some recent priorities and accomplishments with members of the college community.
"We have much to be proud of. Our college has the largest teacher education program in Maine, with more students than any other institution in the state working toward teacher certification," said College of Education and Human Development dean Penny Bishop. "At a time when many teachers are retiring or leaving the profession for other careers, our preservice teachers stand ready to fill a critical need in our schools and our communities."
"So much of our current success rests on the shoulders of those of you who built this college up in the past, whether you were a faculty member, staff, or a student here," she added.
Two former faculty members of the college received Glass Apple Awards at the event.
The Service Apple Award for ongoing service to the college beyond retirement went to John Maddaus, who retired as an associate professor of education in 2017. Before that, he coordinated the college's master's programs in Curriculum, Assessment and Instruction. He was instrumental in developing courses on multicultural education at both the undergraduate and graduate levels. He also served for nine years as chair of the college's Diversity and Difference Committee, which promotes a variety of diversity, equity and inclusion initiatives.
Maddaus continues to contribute to college, currently serving as coordinator of its LD 291 committee, which is taking a close look at the 2001 state law that requires K-12 schools to teach Maine Native American history and culture — also known as Wabanaki Studies. The committee is seeking feedback from current and former faculty and staff, members of the university community, and students, and will be making recommendations to reshape the experiences, curriculum and coursework of its teacher preparation programs to better prepare UMaine graduates to teach Wabanaki Studies in Maine.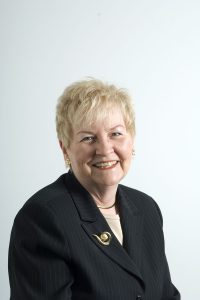 The Giving Apple Award for ongoing philanthropy to the college went to former dean Anne Pooler, who joined the UMaine faculty in 1976 after earning her master's and doctorate from the College of Education. Pooler was associate dean for academic services, then associate dean for curriculum and instruction prior to serving as dean from 2009 through her retirement in 2012.
Outside the college, Pooler served on the UMaine Alumni Association Board of Directors, the association's Legislative Advocacy Committee, and the Advisory Committee of the President's Task Force on Alumni Engagement. She was also a member of the UMaine Foundation Board, the Bangor Symphony Orchestra board, and currently serves on the board of Northern Light Acadia Hospital.
Her philanthropic giving supports many programs and areas on campus, and she is a longtime member of the UMaine Foundation's President's Club, Stillwater Society and Charles F. Allen Society for including UMaine in her estate plans.
The Anne E. Pooler Scholarship Fund supports has supported students in the College of Education and Human Development for several years, and as an endowed fund will continue to do so for generations to come.
Photos of the event will be posted on the college's social media accounts.