Patrick Downing: Outstanding Student in Outdoor Leadership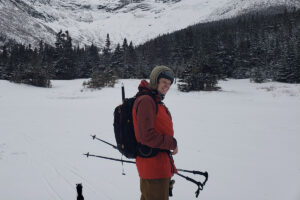 Patrick Downing of Natick, Massachusetts is the outstanding student in kinesiology and physical education, outdoor leadership concentration for the 2021-2022 academic year. As an undergraduate student, Patrick has worked as a student employee at Maine Bound Adventure Center. He also served as president of the UMaine Climbing Club.
Hometown: Natick, MA
Parents: Ron and Amy Downing
Special thanks: Thank you to my parents Ron and Amy for all their support and love. I'd also like to thank Chris Bartram, Beth Jackson, and Lauren Jacobs for their help and knowledge that pushed me to grow so much over the years. Finally, I'd like to thank all of the amazing friends I have made through Maine Bound and the Outdoor Leadership program. I've never met more accepting, genuine, and caring people.
Favorite UMaine memory: Spending time at Maine Bound, and leading the Black Bear Bound orientation trips for new students.