David Davis: Outstanding Achievement in Instructional Technology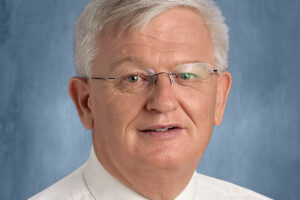 David W. Davis receives a 2021-2022 Outstanding Achievement in Instructional Technology award from the collaborative program in Instructional Technology at the University of Maine College of Education and Human Development.
David is the technology integrator at Glenburn School, where he has served since 2018. In his current role David works with all students in grades K-8, helping them develop technology skills and digital competence. Additionally, he works with his colleagues to integrate technology into existing curricular activities. David's focus this year has been on implementing STEAM-related projects and utilizing the new STEAM Lab at Glenburn School, which houses ten 3D printers, a laser cutter, a Cricut machine, as well as many other technology and science-related tools.
Prior to his work at Glenburn, David spent 16 years at Brooksville Elementary School in Brooksville, Maine, 3.5 years at Dayton Consolidated School in Dayton, Maine, and 8.5 years at Maine Central Institute in Pittsfield. Additionally, David was an adjunct faculty member at Andover College in Portland, Maine. He graduated in 1988 with Bachelor of Science degree in Business Education from the University of Maine at Machias, and will receive his Masters of Education in Instructional Technology on May 6, 2022 from the University of Maine.