Mitchell Jameson: Outstanding Student in Athletic Training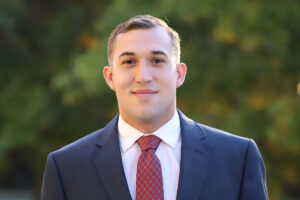 Mitchell Jameson is the outstanding student in athletic training for 2021. Mitchell is from Bangor, Maine and was a naval science minor. During his time at UMaine, he was involved in Senior Skulls Honor Society, the Athletic Training Student Organization, University Volunteer Ambulance Corps, UMaine Ultimate team, and Toys for Tots.
Hometown: Bangor, Maine
Special thanks: "It takes a village." In that sentiment, there are so many people to thank: Sheri Hill, Sherrie Weeks, Michael Flanagan, Brianna Woodworth, Robert Lehnhard, Glenn Pierce, Chris Nightingale, Paul Culina, all of my athletic training preceptors and everyone else that has helped me along the way.
Favorite UMaine memory: One single memory could not fill this slot but the journey to graduation has been grand, from long clinical hours to road trips to play out of state ultimate tournaments. The college of our hearts always is an experience like no other and I was glad to be able to be a part of it.