Eliana Hall: Outstanding Graduate Student in Kinesiology and Physical Education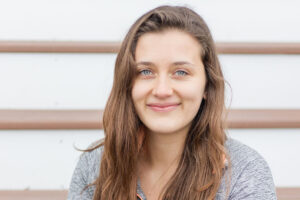 Statement by Jennifer McNulty, Lecturer in Health Education and Lifespan:
Eliana has always gone above and beyond what is asked of her in the School of Kinesiology, Physical Education and Athletic Training, and I am extremely confident that Eliana will continue to succeed in her future career path training clients and athletes who strive to improve their wellness, fitness, and overall performance goals.

Eliana has played a vital role as a graduate assistant in our School. She supervised over 50 students in our KPE 253 course, Lifetime Fitness. She created and implemented weekly lessons in areas such as flexibility, mobility, stability, muscular power/endurance, and cardio-respiratory training. Her students are always fully engaged and motivated to learn in her 50-minute lab section that meets twice a week. Eliana captivates her students' attention by designing relevant lessons pertaining to lifetime fitness and utilizes her coaching and personal training background to foster a healthy learning environment as well as a team atmosphere. Eliana has been an outstanding graduate assistant!

Through Eliana's passion for helping athletes and students transform their performance to an optimal level, experience in strength and conditioning, and her ability to juggle multiple roles at the collegiate level, Eliana is well equipped to serve others and will be a tremendous asset in the field of exercise science and holistic health. She is an outstanding person, role model and team player. Her quality of work is impeccable and she strives to attain more knowledge with each learning opportunity.

Eliana will be missed so much next year, but I have no doubt that she will continue to serve others and strive to instill positive health behaviors in those she works with in the future!