Curmet D. Phrogg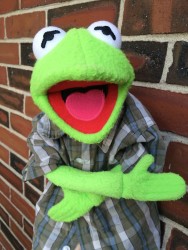 Tell us a little bit about yourself.
Hi-ho! Curmet D. Phrogg here! I'm a transplant to Maine from the swamps of Louisiana (moving from my Cajun lands to my Acadian roots).  I was the second of my thousands of tadpole siblings to leave the swamp, following in the footsteps of my celebrity older brother.  However, fame and fortune did not call to me as it did him.  I wanted an education, first and foremost.  This led me to be the first frog to go to college and graduate school and NOT to be dissected.  I graduated Summa cum frog from Princeton before pursuing my Ph.D. (doctor of Phrogchology) at a little known school called Rainbow Connection University (located on Sesame Street).  I met Dr. Elwood not long after graduating, and he convinced me to apply for my current position at UMaine on Marsh Island.  I did not realize at the time that Marsh Island, Maine, is quite different from Marsh Island, Louisiana, but winters have taught me otherwise.  When not at work, you can most likely find me serenading my wife, Mrs. Pig E. Phrogg, while playing on my banjo.
What has been your most embarrassing moment (either at work or play)?
I brought my friend Mick E. Mowse to work one day, and I did not realize that Pam Guerrette has an intense fear of mice.  Before I knew it, she was standing on top of the front desk with tears streaming down her face.  Thank goodness only the staff witnessed this grand event… I don't know who was more embarrassed, me, Mick, or Pam!

What is your favorite comfort food?
Fried cricket legs with a glass of sweet tea! Mmmmmm tasty!

If you could take a trip anywhere in the world, where would you go?
First, I'd go to the largest swamp in the U.S., Okefenokee Swamp, which spans across part of Georgia and north Florida.  Then, I'd travel further south and meet my friend Miranda in Walt Disney World.

Your favorite quotes…
"Don't be a fish; be a frog.  Swim in the water and jump when you hit ground." ~Kim Young-ha
"Theories pass.  The frog remains." ~Jean Rostand
 "I'd kiss a frog even if there was no promise of a Prince Charming popping out of it.  I love frogs." ~Cameron Diaz
Role in the center
Center mascot; Substitute training director; Supportive cuddler of interns

Areas of interest
I work from a frog-centered model of therapy and supervision, seeking to help students and interns alike embrace their inner froggy-ness.  I encourage play, self-care, and silliness whenever possible, and I am greatly interested in making anyone and everyone smile. Clinically speaking, my specific population of interest is puppets transitioning into the world of non-puppets.  This can be a difficult time of life for puppets (especially since they can't really wear real pants), but it can also be a season of incredible growth and identity development.  Due to the lack of puppets in Maine, I currently focus on helping students with similar adjustments as they transition into the world of adulthood. Also, I have done much research concerning the stigma of frogs who aren't princes and the trauma experiences of those who kiss said frogs.

Degrees awarded

Ph.D. in Clinical Phrogchology (Rainbow Connection University)
B.S. in Puppetry Studies (Princeton University)