Claudia Seviciu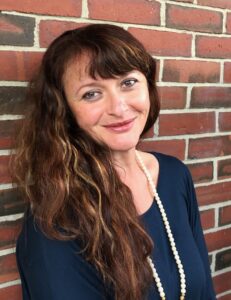 Hello! My Name is Claudia. I was born and raised in Romania. I have been living in Maine with my family  and two cats for the last 15 years, and loving it. I love, love spending time in nature… gathering wild edibles and medicine from the forests of Maine. Nature…water, forests, mountains…I breathe it in and soothes my soul.
What also brings me joy is connecting with others from a place of no pretenses, no masks, with transparency and authenticity.
I love traveling near and far every year , fascinated in seeing and humbled by how people in different parts of the world meet their basic needs with an incredible amount of limited resources; it gives me a different perspective on life and understanding of how we all are truly one.
What has been your most embarrassing moment (that you are willing to share)?
I must be repressing them because I do not remember…
What is your favorite food?
I love Korean and basically all authentic Asian cuisine. I choose it every time I travel to a new city or country! I also love tons of greens and I have a ritual of trying at least one brand new fruit every time I travel.
Favorite quotes
"Awareness is like the sun. When it shines on things, they are transformed." Thich Nhat Hanh
"If you bring forth what is within you, what you bring forth will save you. If you do not bring forth what is within you, what you don't bring forth will destroy you."  Gospel of Thomas
 If you could take a trip anywhere in the world, where would you go?
New Zealand where I would have my flock of sheep, spin wool , cook over on open fire, sing songs, tell stories  with my tribe and ride horses – At least that's how I imagine it !
Professional Credentials and Interests
Master's Degree in Social Work, University of Maine.  Licensed Clinical Social Worker.
Bachelor Degree in Psychology/ Sociology  University Of West Timisoara -Romania
I approach therapy from existentialistic, holistic, and psychodynamic lenses and to whatever the client ultimately needs that stands within my power to deliver, part or not of any theoretical framework. I did intensive training at Smith College in Spiritual Psychotherapy and am currently training in Functional Medicine  – School of Applied Functional Medicine.
claudia.seviciu@maine.edu