Swim Lessons: Private and Semi-Private "Buddy" Lesson Packages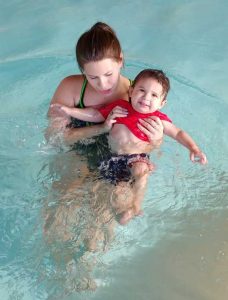 Private and Semi-Private "Buddy" swim lessons are a great way to get detailed and personalized instruction to help you overcome any swim hurdle. Swimmers can thrive in an environment that is customized to their needs and goals. Our goal for participants is to learn the skills of being safe in, on and around the water, lead a life of health and fitness, and to open up opportunities for fun in all recreational aquatic programs.
Private and Buddy swim lessons are available to members and non-members of all ages, abilities, and skill levels. They are one-on-one or two-on-one, and are scheduled with your instructor of choice anytime during the year. Instructor availability varies by semester as our instructors are UMaine students. All children's and youth private lessons are 30 minutes in length. Adult private and semi-private lessons are 60 minutes (1 hour) in length.
Purchase your lesson package at the front desk or on WebTrac, then fill out a private/buddy swim lesson appointment form at the front desk. All scheduling is done through the Aquatics Coordinator after the package has been purchased and the appointment form submitted.
Private Lesson Rates
AGE 0-13:
30-Min Private Lessons
Member:

Non-Member:

AGE 14+:
60-Min Private Lessons

Member:

Non-Member:
3 Child Lessons
$40
$54
 

3 Adult Lessons

$85
$109
5 Child Lessons
$58
$82
5 Adult Lessons
$125
$165
8 Child Lessons
$94
$132

8 Adult Lessons

$185
$249
20 Child Lessons
$195
$286
20 Adult Lessons
$415
$575
Semi-Private "Buddy" Swim Lesson Rates
Semi-Private or "Buddy" swim lessons are an affordable option for you and/or your child to interact with siblings, friends or others of a similar age and ability level. Experience the camaraderie of working in a team while also the individualized attention of a smaller class. Buddy swim lessons consist of two participants and one instructor. Rates below are per person and there is a two-person maximum.
AGE 0-13:
30-Min Buddy Lessons
Member:

Non-Member:

 
AGE 14+:
60-Min Buddy Lessons

Member:

Non-Member:
3 Child Lessons
$34.50
$46.50
 
 

3 Adult Lessons

$69
$93
5 Child Lessons
$48
$68
 
5 Adult Lessons
$96
$136
8 Child Lessons
$70
$102.50
 

8 Adult Lessons

$140
$205
20 Child Lessons
$150
$230
 
20 Adult Lessons
$300
$460
Children's Swim Lesson Policies
Please note the following policies that apply to ALL children's swim lessons.
Up to two (2) of the child's legal guardians* may accompany the enrolled child to a swim lesson. Any other guests, of any age, must purchase a day pass. (Age 14+ = $10, Age 6-13 = $5, Age 0-5 = FREE but must still be assigned an "infant day pass" for tracking purposes.)
All swimmers, legal guardians, and their guests must check in at the front desk.
Everyone must sign a liability waiver prior to arriving for swim lessons; minors' liability waivers must be signed by their legal guardian. If anyone in your party does not yet have a current liability waiver signed and on file, please arrive for lessons 20-30 minutes early as there is sometimes a wait. Liability waivers must be signed annually at minimum and will sometimes be required more than once (for example, at activity registration and then again at first visit).
Anyone aged 18+ must present a MaineCard, RecCard, or a government issued picture ID card. Anyone aged 14-17 must present a RecCard, School picture ID, or government issued photo ID, or be accompanied by a parent or other responsible adult guardian.
* Please note that if you need someone other than the child's legal guardian to bring the child to lessons, you will need to notify Aquatics Coordinator Joshua Bridges at least 48 hours in advance of the lesson in question. joshua.b.bridges@maine.edu