Adaptive Climbing Program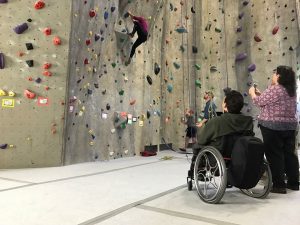 The University of Maine in partnership with the Adaptive Outdoor Education Center's Horizons Alpine Climbing Program is now offering adaptive climbing at the Maine Bound Adventure Center.
The program is designed to provide assistance and accommodations for individuals with cognitive or physical differences, no experience necessary! The program will include weekly adaptive climbing sessions on Wednesday evenings from 4:30 – 7:30 p.m., as well as additional events throughout the semester. Participation in the weekly climbing sessions is free for volunteers, UMaine Campus Recreation members, and students; $5 for nonmembers. Event registration is required and available on the Adaptive Outdoor Education Center website.
To make the program a success, Maine Bound is recruiting a group of passionate and dedicated volunteers to work with participants. Volunteer registration is also available by contacting Enock Glidden or visiting the Maine Bound Adventure Center website. 
For more information, email Chris Bartram, Maine Bound coordinator, at christopher.bartram@maine.edu.
To sign up to be a volunteer, or to come to the informational meeting, please fill out this google form.