Maine Business School IT Certifications
The Maine Business School offers students a number of opportunities to earn professional IT certifications. These certifications add value to your degree and provide demonstrated proof to employers that MBS students have the specialized technical skills they are looking for. 
Universities and colleges around the globe use Bloomberg to bring the real world of finance into the classroom, providing students with access to the same information platform used by leading decision makers in business, finance and government.
Bloomberg Market Concepts Certification
Bloomberg Market Concepts (BMC) certification is a self-paced e-learning course that provides an interactive introduction to the financial markets. BMC consists of 3 sections — Core Concepts (includes four modules – Economic Indicators, Currencies, Fixed Income, Equities), Getting Started on the Terminal and Portfolio Management. The sections are woven together from Bloomberg data, news, analytics and television. The course is available through the Bloomberg Terminal at BMC or through the Bloomberg for Education website. 
Bloomberg Market Concepts (BMC) is an 8 hour self-paced e-learning course that provides a visual introduction to capital markets. BMC is recognized world wide, and will signal to prospective employers that you have attained a high level of competency in using the Bloomberg Professional Service as well as optimize job performance.
Students in the finance major get jobs in 
Corporate Finance
Commercial Banking and Insurance
Asset Management
Real Estate
Personal Financial Planning
Investment Banking / Asset Management
Fintech
The benefit of adding this certificate to your resume is that they can impress your employer with knowledge about Bloomberg which other business schools in Maine cannot offer.
It is a unique value proposition that the MBS can offer.
---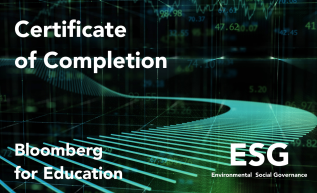 Environmental Social Governance
What started as a corporate social responsibility initiative by the United Nations 20 years ago has swelled into the Environmental, Social, and Governance (ESG) movement. Many financial institutions and organizations have launched sustainability initiatives related to its governance, but there are critical questions to ask as we evaluate ESG investments, such as:
What are the key differences between public equity and public debt investing and between public and private markets?
What are the key regulatory efforts in ESG investing in the United States, Europe, and China?
How does a portfolio manager incorporate ESG factors into investment analysis?
How are investors thinking about climate change risk, and is there a useful framework that helps simplify this topic for capital allocators?
This certification is offered through Bloomberg for Education.
---
Demonstrate that you have the skills needed to get the most out of Excel by earning a Microsoft Excel Certification. These certifications demonstrates competency in the fundamentals of creating and managing worksheets and workbooks, creating cells and ranges, creating tables, applying formulas and functions, and creating charts and objects.
MS Excel Certification
Earning a MS Excel Certification is one of the best ways you can demonstrate to employers that you are knowledgeable and skilled with how to use MS Excel. All business students have the opportunity to certify at the Associates level. Those who earn the Associates Certification may also move on to certify at the Excel Expert level.
Excel is one of the most sought after skills by employers across all majors and is particularly useful for students planning to work in the fields of:
Accounting and auditing 
Financial analytics
Data analytics
Business intelligence analytics
Market research and analytics
Cost estimating 
Digital marketing
Required Classes for Certification
BIS 105 Excel Fundamentals for Business Analytics
---
SAP is the world's largest provider of enterprise application software which helps companies of all sizes and all industries run at their best.  Their products touch more than 77% of all the worlds financial transactions and provide enterprise resource planning (ERP), business intelligence (BI), and related services. 
SAP Student Recognition Award
The purpose of the Student Recognition Award is to recognize students at University Alliance member schools that have spent notable time using the SAP product suite within their degree program.
The SAP Student Recognition certificate is great for all Business Disciplines, Management, Marketing, Accounting, Finance, and Information Systems!
Students wishing to have a formal / recognized SAP certification may choose to participate in a Student Certification Academy (TS410). TS410 is an associate level certification course and exam that may result in the student achieving a SAP Certified Associate – Business Foundation & Integration with SAP ERP certificate that is recognized across the SAP ecosystem.
This recognition/award is issued by the school.  It is signed by the school official, usually the college Dean, and the appropriate University Alliances (UA) Program Manager.
The specific criteria are determined by the University Alliances member school with the following minimum standards:
Student must complete all SAP-supported coursework with a C or better
Qualifying courses must contain at least a one third hands-on component using SAP products
Students must complete a minimum of three different courses containing SAP content
Because SAP certification spans all business processes, it is valuable for all business disciplines, and is particularly useful for students planning to work in the fields of:
Application Consultant
Business Process Architect
Business Process Owner / Team Lead / Power User
Accounting and corporate finance
Operations – including supply chain and warehouse management
Enterprise Architect
Program/Project Manager
Required Classes for SAP Certificate of Recognition
BIS 235 Digital Transformation
BIS 345 Business Analytics
BIS 364 Business Process Configuration
---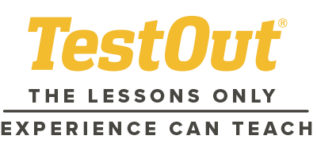 The TestOut Network Pro prepares students for the TestOut Network Pro certification exam and CompTIA's N10-007 certification exam. Students gain the knowledge and skills they need to install, configure, and maintain a network for a small business.
TestOut Network Pro
The TestOut Network Pro certification measures an examinee's ability to perform tasks commonly performed by IT network professionals, including systems administrators, network administrators, network engineers and related careers. The core responsibilities of these job roles typically revolve around the management of hardware and software networking components and include IP configuration, setting up wireless and wired networks, managing networks, basic network security, software updates, hardware upgrades and network protocols.
Those earning this certification can work in the fields of:
IT Support 
IT Systems Administration
Network Engineering
Network Administration
Required Classes for the Network Pro Certification
BIS 235 Digital Transformation
BIS 363 Network Design & Applications
---
More Certification Opportunities from SAP and Pearson Vue
Additional SAP Certifications through SAP OpenSap
Through the Maine Business School's University Alliance with SAP, we are able to offer many more SAP certification opportunities to Maine Business School students!  Students can earn certifications in Accounting Systems, Finance Systems, Blockchain, Artificial Intelligence and so much more!
Click the link below for more information!
The Maine Business School is a Pearson Vue and Certiport IT Certification Testing Center
The Maine Business School is also one of very few Pearson Vue and Certiport Testing Centers in the state of Maine. Through our testing center, students and non-students can sit for a variety of IT certifications. Get certified in: Microsoft Office Products such as MS Excel and MS Access, App Development with Apple's Swift, and Information Technology Specialist, to name a few.
For more information about the various certifications available through the Maine Business Schools Pearson Vue and Certiport Testing Center please click the link below: