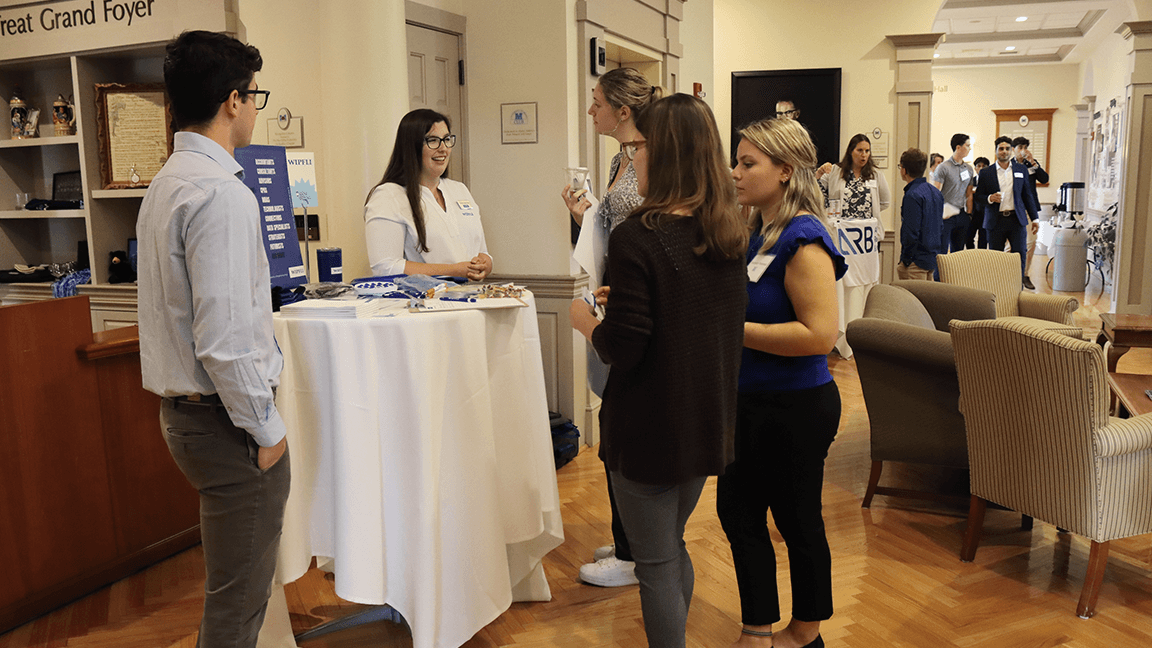 Accounting Firm Night provides a space for networking
Eleven UMaine alums represented Maine and New Hampshire accounting firms at the Fall 2023 Accounting Firm Night. Ian Lichtenberg, '18; Nicole Pelletier, '21 and '22G; and Mikayla Roy '19 from Baker Newman Noyes; Bethany Ashley, '20 and '21G; and Michelle Miller, '19 and '21G from BerryDunn; James Shokal, '19 from Nathan Wechsler & Company; Nick DeBlois, '14; Megan Fowler, '22; and Gage Palmer, '21; from One River CPAs; Casey Sudbeck, '17 from Purdy Powers & Company; and Tim Gill, '05 from Runyon Kersteen Ouellette. Other firms that attended include Albin, Randall & Bennett, Royer, and Wipfli.
"It felt great having the opportunity to be a part of the Accounting Firm Night!" says Bethany Ashley, senior auditor at BerryDunn. "I felt right back at home while connecting with the MBS community. The students were curious, enthusiastic, and impressive! They asked great questions, were professional, and came ready to connect and learn."
More than 45 undergraduate and graduate students attended the event to learn more about careers in public accounting. "Accounting Firm Night was, once again, an amazing opportunity for our business students to meet with the CPA firms that will be offering them both internships and post-graduation careers," says Dave Barrett, Lecturer in Accounting. "This event helps hour students create valuable touchpoints that can become the basis for future interviews and job offers. It's truly a testament to the quality of our Accounting students that, year after year, these professionals take time out of their schedules to come to Orono to meet with the next generation of public accountants."
This event, held at the Buchanan Alumni House, is coordinated by the Maine Business School and UMaine's Career Center. The next step for these students is to work with Kate Axelsen Foster, Assistant Director, Employer Relations at the UMaine Career Center, to prepare for October interviews.
"Accounting Firm Night was a blast!" says Emma Ardell, a junior Accounting major. "I made great connections and am already in touch with a firm! Thanks to MBS for putting on such an important night for my future."