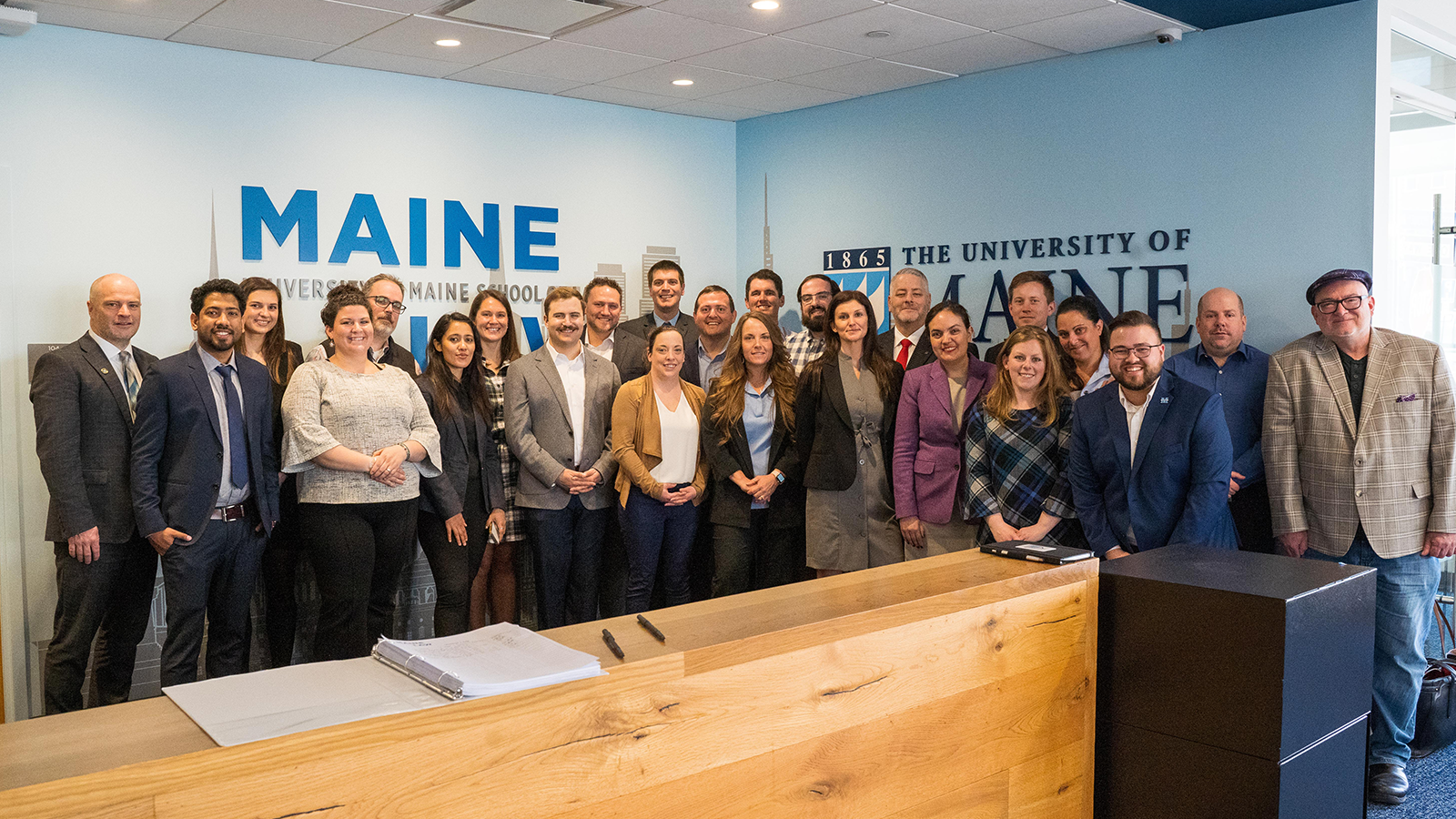 Inaugural MaineMBA Academy
In the spring of 2023, twenty-two MaineMBA students took part in the inaugural cohort of the MaineMBA Academy. Thanks to donor support from Mark and Evan Skinner, the MaineMBA Academy is a hybrid version of the MBA capstone course, MBA 649: Strategic Decision Making. This class culminates in an intensive in-person experience at 300 Fore Street in Portland. It features executive-level speakers and sessions, experiential learning with live industry clients, and career development and networking. The University of Southern Maine's Maine Economic Improvement Fund provided financial assistance to host students in Portland.
"The academy's goal is to bring students to Portland for a live capstone course experience," says Dr. Norm O'Reilly, Dean of the Graduate School of Business. "The majority of these students have been enrolled in online courses for the duration of their education. The MaineMBA Academy allows them to spend a week exploring Portland, Maine with their classmates. They have time to network with each other and industry professionals."
The students in this inaugural cohort came to Portland from other parts of Maine, Massachusetts, New Hampshire, South Carolina, New York, Virginia, and California. After the in-person week in Portland, students traveled to Orono to participate in commencement on Friday, May 5th.
"As an international student, this class fulfilled the in-person requirement for my student visa," says Thomas Erick. "This was my favorite course in the MBA due to the in-person component and being able to network. The professors made it relatable and fun."
Programming for the MaineMBA Academy included class sessions with professors Dr. O'Reilly and Professor Richard Bilodeau, executive chats with four industry leaders, and interactive sessions with industry clients. Students also worked in groups to finish their capstone projects. At the end of the week, students presented to the businesses they had worked with all semester long. Participating companies included L.L. Bean, NASA, Everything Seaweed, Finsulate, and Ocean Farm Supply. As part of the academy, students explored many aspects of business strategy, including sustainability, feasibility, customer and industry analysis, and planning for implementation. 

"Experiential learning where students work with real businesses to address strategic challenges is an important part of MBA education," Professor Bilodeau says. "The MaineMBA Academy provides real consulting experiences that bring classroom learning to life."

"I walked away from my days at the MaineMBA Academy forever changed by the class meetings, executive chats, networking experiences, and time spent closely with my classmates," says Annmarie Harkins. "The experience made me feel more inspired and empowered than ever before. I've gained a deep sense of clarity in the type of leader I want to be. I think I grew more in three days than I have in years!"