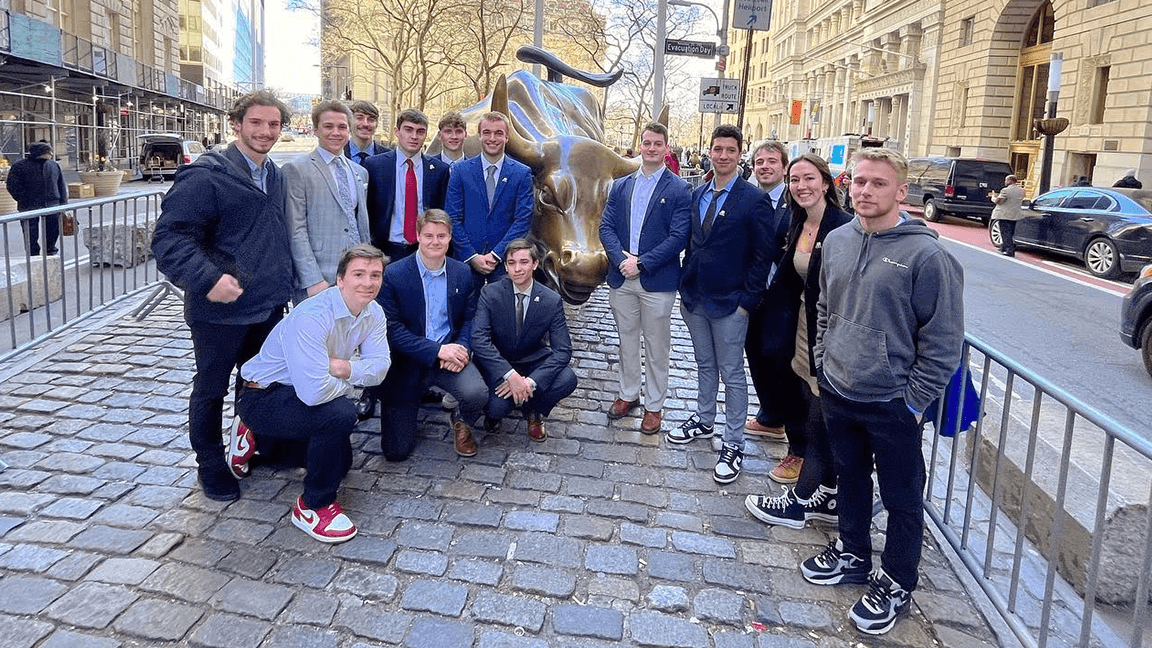 SPIFFY students attend Quinnipiac's GAME Forum
Sixteen Maine Business School student members of the Student Portfolio Investment Fund (SPIFFY) student organization spent March 30 and 31 attending Quinnipiac's Global Asset Management Education (GAME) Forum in New York City. "After a three-year Covid-related hiatus, it was great to enjoy an in-person conference again," says Dr. Sebastian Lobe, SPIFFY faculty advisor.
The GAME Forum is the largest student-run financial conference in the world. It brought together current and future leaders of the financial services industry to explore and discuss the topical issues the global investment environment faces. The conference included over 100 speakers and 77 industry-leading financial services companies, who presented at keynote panels, workshops, and breakout sessions. SPIFFY members were able to learn alongside 1,100 students in attendance from over 120 universities.
"It isn't often that more than 100 student portfolio managers can show off their hard work to other students from across the country," says Aidan Michaud, SPIFFY director of performance. "I learned that no one set of guidelines leads to market success. Rather, the commitment to sustain your values with passion and persistence leads to success in the markets. Finance is an art just as much as it is a science."
On the first day of the conference, participants gathered to listen to 15 different keynote speakers. The speakers discussed their opinions and understanding of various topics, such as the current and future state of the United States economy, market and investment strategies, global asset allocation, and portfolio management. Students had the opportunity to ask questions directly to the keynote panelists at the end of each session.
"I am eternally grateful for these finance leaders to come and share their invaluable knowledge with us at these panels," says Jackson Graham, SPIFFY director of investments. "I especially enjoyed listening to the Wealth Management Strategies Panel, where advisors from Morgan Stanley and JPMorgan shared their experiences. One main takeaway was realizing that people tend to change their strategy. You have to keep them steadfast through the boom and bust of the market. "
The second day of the conference offered breakout sessions, keynotes, and workshops. SPIFFY members could choose topics within the finance industry that interested them. Topics included asset allocation, wealth management, FinTech, women in finance, crypto assets and hedge funds, entrepreneurship finance, and many more. SPIFFY members also attended post-college career networking events, which allowed students to meet directly with company representatives and GAME alums. To end the day, SPIFFY members participated in the global portfolio competition poster session. This event provided members to present their actual, managed investment portfolio and compare their performance, strategies, and overall portfolio with other universities. Members also enjoyed learning different maintenance protocols from other funds.
"It was an amazing experience to talk with representatives of so many other student-run portfolios," says Johnny Gray, SPIFFY sector head of consumer staples. "I was struck by the true uniqueness SPIFFY exhibits in its size, opportunities, and level of responsibility entrusted to undergraduate students. The event left me incredibly grateful to be a part of such a phenomenal club!"
SPIFFY members are extremely grateful to Dr. Robert Strong, professor emeritus, who founded SPIFFY in 1993, and the University of Maine Foundation.
Story by Nicole Cobb