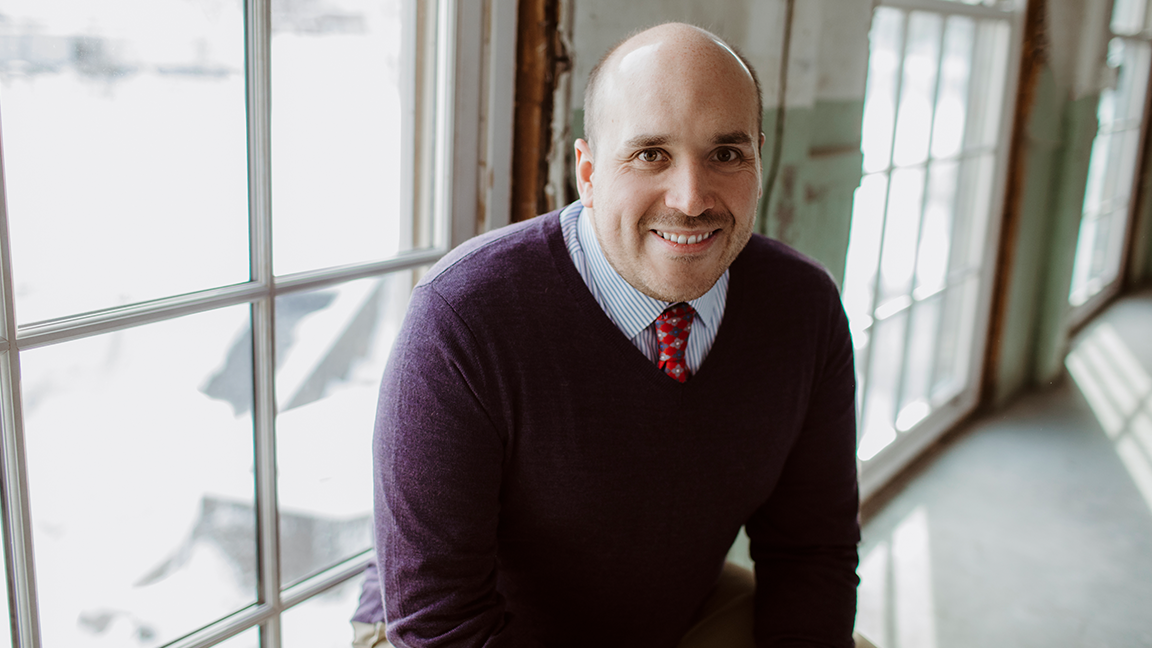 Alumni Profile: Ryan Moore
Ryan Moore graduated from the Maine Business School in 2005 with a major in Marketing. He is currently finishing his Ph.D. in Marketing with the University of the Cumberlands in Williamsburg, Kentucky. A native of Millinocket, Maine, Ryan is clearly the king of multitasking!
Why did you decide to attend UMaine for your undergraduate degree?
I was a transfer student to UMaine. Growing up in a small town, most of my high school classmates made UMaine their first choice, and I honestly wanted to experience something different. I wanted to be far enough away that it wasn't convenient for me to make the drive home if something got hard, and the 60-mile commute from Orono to Millinocket would have been too close. I decided to go to an out-of-state school for a particular degree, but I quickly realized that I hated the major and changed to business.
Then the paper mills closed in Millinocket, and both my parents lost their jobs. UMaine offered programs specifically to help students of displaced mill workers at the time. That incentive, plus the fact that the Maine Business School was far superior to the business program I was currently in, made it easy to transfer to UMaine. Looking back, I regret not going to UMaine for the entire four years. UMaine has so much more to offer than any small out-of-state school!
Why study business?
During college, I worked at the North Woods Trading Post outside of Millinocket. The owner of the store became my first mentor. She told me I had a head for business and should consider business as my major. I did some research and took her advice.
Did you have any favorite classes?
Two of my favorite professors also taught both of my favorite classes. I had Dr. McKeage for Consumer Behavior and Dr. Daniels for Marketing Research. Those are now two topics that I am very interested in with my own research. One project that I remember clearly was in the Marketing Research class. We had to call local businesses and ask for their fax number to fax them a questionnaire as part of the research. We all were to take turns using the university's cell phone and go down a calling list trying to get a fax number. I'm pretty sure that survey method wouldn't get us a good result today. Marketing research has become a lot easier with social media and email!
You've worked for Bank of America for 18 years. Tell us a bit of your role there:
This was my first real adult job, and I never left. I started working nights while I was at UMaine. I've held many different roles at the bank over the years. I started on the phones taking calls. I eventually moved into the marketing operations area, where I supported outward dialing campaigns and was a vendor manager for the Inward Telesales group. Today I work in digital banking. I am a Senior Vice President and the Digital Deposits Product Manager. I support all the checking, savings, CDs, and IRA account openings in the digital space. My team and I cover the up-front marketing pages supporting the products, the applications to apply for the products, and any onboarding steps once the account has been approved. We are also responsible for end-to-end customer experiences, compliance and controls, and production support activities.
What I like most about my career with the bank is that there are always new opportunities available. I have moved around the bank and held over ten jobs in the past 18 years. I also really enjoy supporting the digital space. There is so much changing in banking, and with more and more digital advances coming, it is almost too much to keep up with. But that is what makes it exciting.
How did your undergraduate degree from the Maine Business School set you up for success?
My undergraduate education gave me two things: my curiosity about marketing and the skills needed to balance work, school, and personal time. UMaine was my first dive into marketing, and it wasn't what I expected. I always considered myself creative, so I thought marketing was just pretty pictures and catchy slogans. I was wrong. The Maine Business School fueled my curiosity to learn more, and I hope to pass that on to students someday. During my time as an undergrad, I was a full-time student and a part-time employee. School couldn't get in the way of work, and work couldn't get in the way of school. That meant I studied on my free weekends off. Learning to balance both was a skill I learned as an undergrad.
You also have an MBA, and you're pursuing a Ph.D. in marketing. Why did you decide to further your education?
I decided to get my MBA because I thought it was the next step for advancement in corporate America, plus I really enjoy school. I wanted a Ph.D. for an entirely different reason. My goal is to eventually transition into higher education and teach full-time at a college or university.
You work full time, teach part-time, and are earning your Ph.D. in Marketing. How do you multitask?
I have found that setting routines helps me stay on track. My work time is 8 am to 5 pm. I try to be as productive as possible, so work doesn't carry past 5 pm. I then usually spend some time grading papers and answering student questions. I try to set a clear stop time for that so I can wind down at the end of the day.
Since I am working on my dissertation now, I write and conduct research when I can. This is usually on the weekends. Developing a clear routine and setting boundaries to still have a life outside of work and school is essential. I think it is also important to understand when something is due, and from there, you need to prioritize. For example, if there is a big presentation at work due, I may have to spend more time at the day job and less time grading papers. If I have a paper or a draft due for my dissertation, maybe I take a day off and focus on that. I have also been working from home for years, so I have a little more time in my day since I am not commuting.
Will you tell us about your research for your dissertation?
I wanted to work on a research project that could help small struggling towns like the town I grew up in. When the Millinocket Marathon & Half event started in town, it was a unique event that gave our small town some national attention. I wanted to know if that draw to run in a small town, in the winter, with not much organized support, could be transferred to other towns or even other events.
During my research, I found a study that looked at another marathon in Korea. Their focus was on the participants' emotional experience and their desire to seek out novel events. I added in another factor to study the interactions with the people during the event, the community members, the other runners, and the volunteers. I want to know if those combinations build loyalty and promote advocacy for the event and town. There probably will not be another Millinocket Marathon out there. Still, there are many small towns like Millinocket, and I hope my research can help another town draw thousands of tourists to their sleepy hamlet and give the region a needed boost.