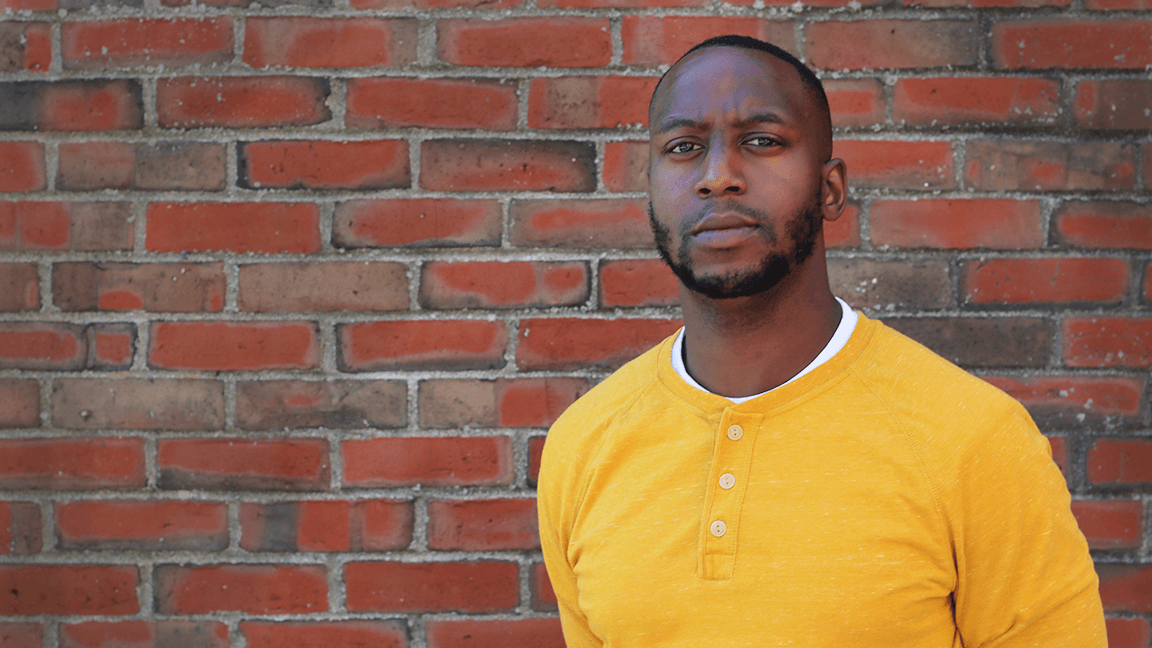 Alumni Profile: David Patrick
David Patrick, MBS Class of 2016, is working toward a more equitable community in Maine. He is the co-founder of Racial Equity & Justice (REJ), a nonprofit and firm that provides consulting services and educational support based in Bangor.
Racial Equity & Justice began as a nonprofit organization in 2019. Their primary goal is to support communities of color to create safe and equitable spaces where people can gather, heal, and create a thriving future. The firm provides professional services and support to organizations, academic institutions, and other business entities. "We founded our organization after years of seeing inequity and a lack of intentional spaces for communities of color to come together," Patrick says. He and REJ co-founder Desiree Vargas have a background in nonprofit work. "We believed that our experiences, expertise, and unique knowledge would be the perfect combination to start an organization that was a direct reflection of our values and provided the services and support that were missing in our journeys."
A business background
Patrick earned his BSBA in Marketing and International Business in 2016 and his MSW in Social Work in 2019. "I decided to study business because I really like working with people," Patrick says. His concentration in International Business came from his passion for international adoption. "As someone who is adopted, I wanted to work in an international space to create change for people across the world with similar experiences as mine."
A business background comes in handy in a practical, day-to-day way at REJ. Patrick's marketing background helps him present the core pillars of his organization to external partners and the community at large. His business skills are used daily. He handles accounting and logistics, public relations and website design, and manages the supply change for REJ's food security and delivery programs. His social work degree intersects with the organization in a different way. "As a social worker, I implement many modalities and theoretical frameworks for healing and change," he says. "Whether working with those who have upheld inequity or those who have been disadvantaged by it, my approach is similar."
A space for Racial Equity & Justice
REJ couldn't have come at a better time. The past few years have seen seismic shifts in our society. Through it all, REJ aims to be proactive as opposed to reactive. "We are constantly forced to react to situations and circumstances that exist in our nation and our community," Patrick says. "However, from these instances, we are able to develop proactive long-term solution-focused responses and create increased equity and inclusion in both identity and perspective." Patrick explains that the philosophy of REJ is to try to elevate and uplift the strengths of all of our community partners and individuals they work with from a harm reduction standpoint. "This means that although we may not be able to immediately reach net-zero regarding instances of discrimination, bias, and inequity, we can continually and perpetually reduce the harm that is caused from these things."
The scope of REJ's work is wide and varied. They provide education and training through workshops on the core principles of diversity, equity, and inclusion. They advocate for individuals who have experienced adverse circumstances regarding discrimination. Examples of this include the loss of a job, mental health issues, or legal issues. REJ drafts and reviews policies that municipalities, school systems, and corporations have created. They also consult with businesses regarding their marketing materials, client engagement models, human resources practices, and hiring and retention practices, among other work.
"Providing and supporting the next generation is the work that I am most proud of," Patrick says. "I'm a father. Creating a community that uplifts people of all identities is one of the best things I can do for my children."
REJ is working to create spaces in Maine where communities of color can have a sense of identity and belonging. "We want our graduates and our families to want to stay here and enrich the lives of others," Patrick says. "I think a sense of belonging and feeling like we can achieve the highest level of success. There should be no ceiling or opportunity that is unachievable for people of color in our state."