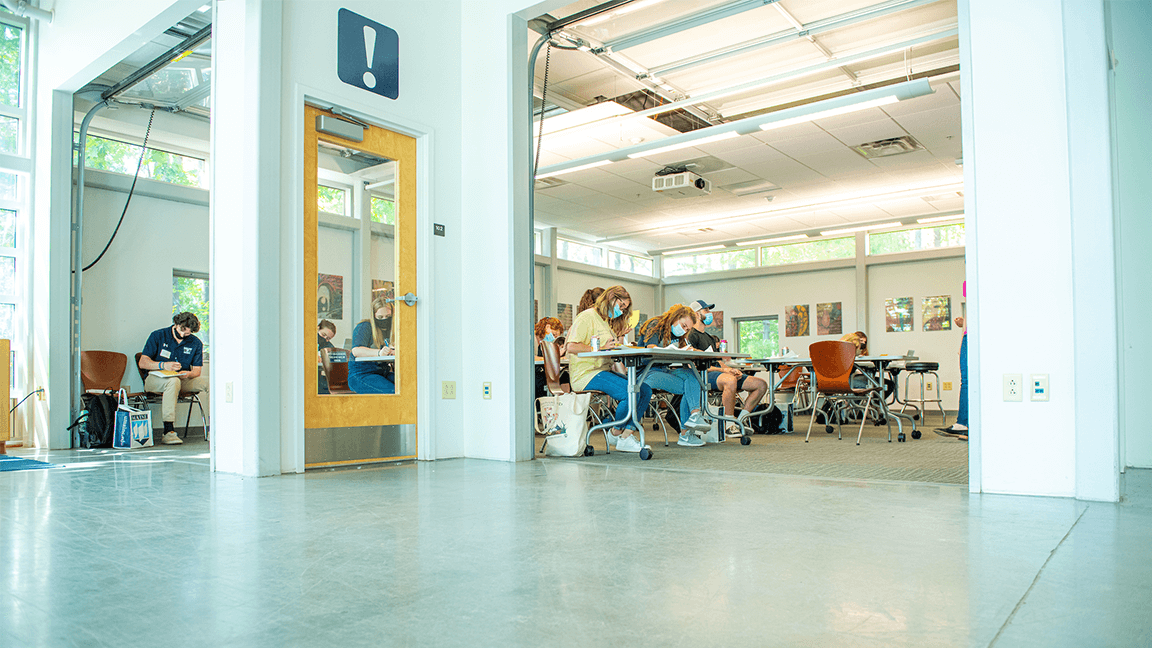 Innovation and Business Combine at UMaine
The University of Maine's Innovation program has a new home: The Maine Business School. Innovation and business go hand in hand. After 12 years without specific college affiliation, Innovation (formerly Innovation Engineering) has joined the Maine Business School as one of the college's minors and graduate certificate offerings.

"Innovation is a key business capability in today's hyper-competitive business landscape," says Jason Harkins, Ph.D., Associate Dean of the Maine Business School. "We are proud to bring formal training in innovation into the business school. Whether students plan to use innovation inside entrepreneurial ventures or established businesses, what they learn by studying Innovation at MBS will allow them to pursue a systematic approach to innovation and increase the odds of success."
This partnership with MBS provides the Innovation program the opportunity to expand Innovation research, enhance curriculum collaborations, and increase engagement throughout the minor and micro-credential with MBS. It will help strengthen the Innovation program and provide MBS learners access to new learning opportunities.
Innovation Program History
In partnership with Doug Hall, an alumnus who works with Fortune 500 companies to innovate, a group of faculty, including Renee Kelly, Innovation Program collaborating faculty, developed the curriculum for both an academic setting and to train business and community leaders. The program, formerly called Innovation Engineering, is a systematic approach to innovation in all fields. It is offered as a minor and graduate certificate that complements a student's primary discipline. Later, UMaine created three-day institutes to train hundreds of Maine business leaders and later worked with Doug Hall's company, Eureka Ranch, to bring them across the country. The Innovation Engineering Institute is a collaboration of UMaine and Eureka Ranch. The Institute has licensed the curriculum to other universities in Pennsylvania, Alabama, Kansas, Texas, and South Carolina.
In the fall of 2019, Faye Gilbert, Ph.D., Dean of the Maine Business School, invited Innovation Engineering to pilot test a process to join the faculty in business. That success paved the way for Innovation to officially join the MBS in 2021.
Innovation and the Foster Center
"A minor in Innovation teaches students from any major invaluable skills," says Jason Bolton, Ph.D., Area Coordinator of the Innovation Program at the Maine Business School. "Students will learn a systems thinking approach to create new ideas to solve real problems that matter, communicate their ideas effectively with clarity, and bring their ideas to life while reducing the risk of idea failure." To complete the minor in Innovation, students complete three courses and a combination of seven credit hours of internship, capstone, and/or work on a special project. In addition, students that complete the three courses in Innovation will receive the full UMaine Innovation micro-credential.

Innovation courses are generally held at the Foster Center for Innovation, the hub of innovation-focused activities at UMaine. The Foster Center helps students and community members develop a mindset and skillset for creating, testing, and achieving ideas. The center plays four key roles: offers business coaching to anyone with a business idea; runs a student business incubator; offers academic courses in Innovation; and manages the Innovate for Maine Fellows Program, a statewide college internship program focused on innovation.