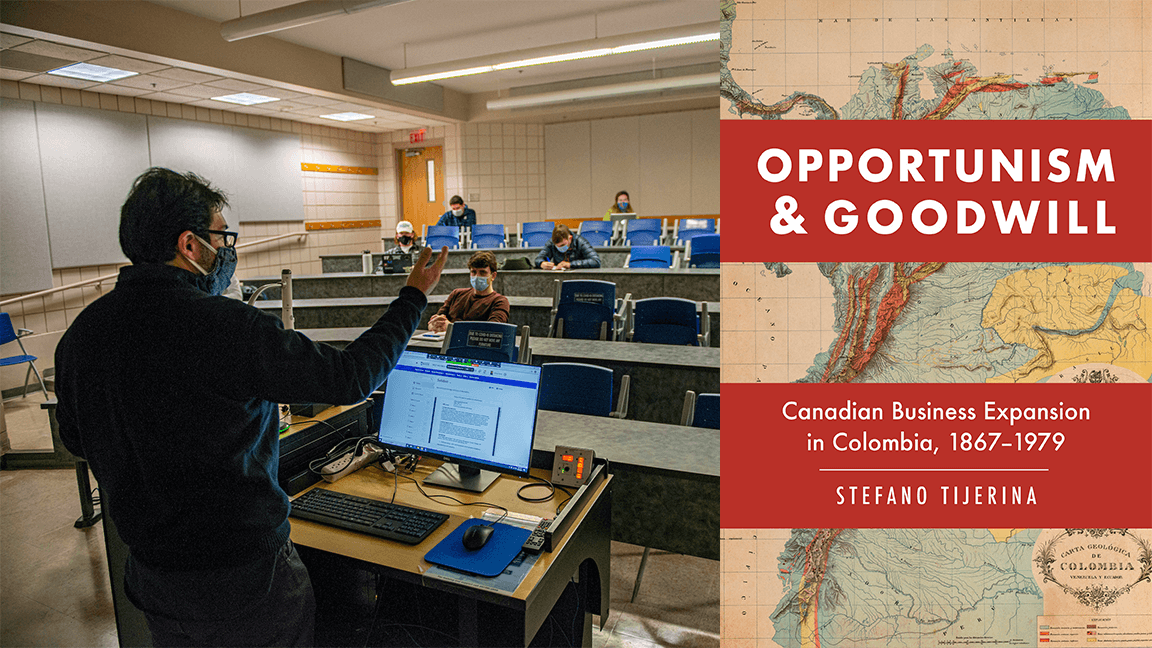 Stefano Tijerina Authors New Book
Stefano Tijerina, Ph.D., has authored his first book. Recently published by the University of Toronto Press, Opportunism and Goodwill: Canadian Business Expansion in Colombia, 1867-1979 explores the dynamics of the economic relationship between Canada and Colombia that is largely overlooked by historians and social scientists. Dr. Tijerina is a Lecturer of Management in the Maine Business School.
What inspired you to write this book?
As an American living and growing up in Colombia, I attended Colegio Nueva Granada—the American school in Bogotá. There I was surrounded by other American kids that were in Colombia because their parents worked for an American Multinational Corporation or because they were connected to the U.S. through the military or State Department. There were also quite a few Canadian kids that also ended up at Colegio Nueva Granada. I would come back to reflect on this reality as I was constructing the research question for my doctoral thesis.
During my banking years my path would once again cross with Canadians, this time as clients. My international banking sales role landed me in the offices of CFOs and regional CEOs of Canadian multinational corporations operating across numerous sectors of the Colombian economy—most of them in the extractive industries.
The Canadian presence that I saw in Colombia did not fit with the U.S.-centric academic narrative that I was exposed to in my undergraduate education at Clark University. The idea that the U.S. had been the dominant force in the outcomes and experiences of modern Latina America and the Caribbean has been constructed by courses in U.S. and Latin American history, Economics, International Affairs, and International Development.
When trying to carve out my research question, Canada became the epicenter. I wanted to explain the historical trajectory and strategies used by foreign companies that shaped the economic development trajectory of Colombia, and more precisely Canadian companies. My goal was to also revise the historical idea that imperialism and expansionism was only the work of superpowers. I decided to focus on secondary powers in order to explain that the expansion of capitalism across Latin America and the Caribbean was the outcome of transnational dynamics and not binational dynamics. The book is confirmation of my thesis.
What surprised you most when conducting research for this book?
The fact that not many social, economic, or business historians have looked at Canada's role in the Americas or in the world in general was what was surprising.
Canada, a middle power, has been responsible for the transformation of the modern world. Canada's business sectors have constructed infrastructure and controls mining and other extractive operations across the world. Its Official Development Assistance has altered the economic development in many developing nations. People across the globe consume Canada's resources and commodities. Even Maine's economy depends heavily on the Canadian economy. It is understudied, and that is perhaps part of the strategy of the country's propaganda machine. On the contrary, Canada is considered internationally as a benevolent and "goodwill" nation.
How does this book relate to your career?
As a professor in management, and more particularly international management, it is imperative to understand the historical dynamics of the international market system. In this orchestra of nations, it is the business sector that conducts the orchestra. That is why it is crucial, as a business historian, to study the temporal and transnational spatial dimensions constructed by multinational corporations across the world.
How will this book help to find the historical avenues of North and South American trade and business relations?
The book contributes to a relatively understudied field, not only by historians, but by economists, social scientists, and scholars in management. Latin America and the Caribbean have been the experimental grounds for the expansion of capitalism into the developing world. I want to understand how multinational corporations are successful at transplanting their operations and executing their global strategy in another country.
What is the current status of Colombian-Canadian trade relations?
Canada and Colombia signed a Free Trade Agreement in 2011. Since then, the presence of Canadian businesses in Colombia has increased tremendously. Canadian Foreign Direct Investment into the Colombian economy has also increased exponentially. This allows them to control gold mining, emerald mining, paper production, oil, gas, hydroelectric power, telecommunications, medical marijuana, and food production, among other sectors. The foundations that led to the presence of Canadians in Colombia today is the basis of my book.
What is the main lesson you hope readers take away from reading your book?
That in order to understand the historical dynamics of globalization, one must move away from U.S.-centric and Euro-centric constructs. Globalization may only be understood from a transnational perspective. Canada's story is just one of many transnational perspectives.
How long did you work on researching this book? How do you feel now that it's been published?
I spent six years researching this book. Historical work takes patience and time. I can only build my argument around concrete primary sources that are supported by secondary sources. This digging takes time and it is sometimes frustrating. Nevertheless, it is gratifying work. You become the voice within the findings, starting a dialogue with intellectuals and scholars that may only argue back through their own fact finding voyage. It feels good to have it published. It is empowering and motivating.
-Questions presented by Isuru Waduge