Important Changes Coming Fall 2021
We certainly hope that your summer is a safe and healthy season of rest and relaxation.
Even as you enjoy beautiful weather and time with friends and family, please be aware of some important news and timely reminders you will want to keep in mind.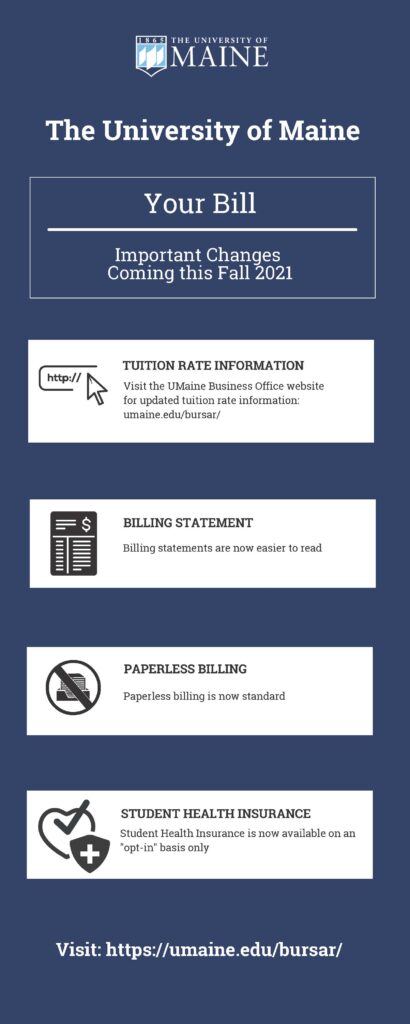 Please note: Final budgets and tuition rates for the campuses of the University of Maine System including the University of Maine have been approved by the Board of Trustees and we invite you to visit the University of Maine Bursar's website for updated tuition rates.
That's Where You'll Find the Very Latest: The timeline for processing your 2021 Fall Semester bill and specific tuition rate information are now available and located there.
Please Remember: Two important changes in our billing process for 2021-2022 include:
A simplified bill collapsing multiple fees into a single tuition charge
Paperless billing to provide added convenience for you and your family
Want to view/print your Student Bill?
Changes to Student Health Insurance! As a returning student, you'll want to note that this year, you will NOT be automatically enrolled in the University of Maine System's student health insurance program. If you wish to participate, you must enroll and instructions on how to do so are available at the Bursar's Office website.
Our commitment is to keep you fully informed of these and other changes from the Bursar's Office in a timely way to make it easy and convenient to meet your financial obligations as a student at the University of Maine.
Should you have any questions about current payment and balances, they may be directed to the Office of the Bursar at 207-581-1521 or umbursar@maine.edu.
Regards,
Joanne Yestramski
Interim Vice President, Finance and Administration