MAIER FP hosting Sensory-Friendly Movie Event January 27
Join us for a Sensory-friendly showing of Paddington 2, hosted by MAIER's Family Partnership (MFP) with Spotlight Cinemas in Orono on Saturday January 27th at 10am.
This FREE showing is for families that include a child,teen, or adult with ASD, and includes siblings. Seating is limited so be sure to contact Donna at MAIER to save your space! Email (donna.doherty@maine.edu) or call (207-581-2468) today! FMI see flyer below.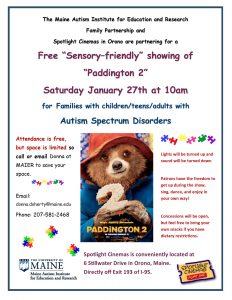 SCERTS Training Opportunity May 3 & 4, 2018
"Implementing the SCERTS Assessment Process to Guide Program Development"


Presented by Amy Laurent, PhD, OTR/L (coauthor of the SCERTS® model)
Join us for this special 2-day Training Opportunity in 2018. Space is limited so register now!  Register online at our secure registration site.
The SCERTS® Model is a research-based educational approach and multidisciplinary framework that directly addresses the core challenges faced by children and persons with ASD and related disabilities, and their families. SCERTS refers to Social Communication, Emotional Regulation, and Transactional Support (Prizant & Weatherby, 2005)
This two-day training will lead to a thorough understanding of the SCERTS model and provide participants with the knowledge and skills to implement the model in their classrooms. This model provides specific guidelines for helping a child become a competent and confident social communicator, while preventing problem behaviors that interfere with learning and the development of relationships.
Amy Laurent, Ph.D., OTR/L is a developmental psychologist and a registered pediatric occupational therapist. Currently in private practice, Amy specializes in the education of children with autism spectrum disorders (ASD) and related developmental disabilities. The SCERTS Model, of which she is a coauthor, along with differentiated instruction and developmental theory, guide her practice. Amy is an adjunct faculty at the University of Rhode Island.
Note:  We encourage you to register with others in your school team, as SCERTS utilizes a team approach. Space is limited for this training so register today!
Register online at our secure registration site.
Contact hours are awarded upon completion of the workshop. CEUs (1.2) are available with a $20 processing fee.
A "Visit to Santa's Village" for MAIER's Holiday My Day to Play!
On Sunday December 3rd, the Maine Autism Institute for Education and Research (MAIER) Family Partnership hosted thirty-two local families impacted by autism at a special Holiday "Visit to Santa's Village" at the Maine Discovery Museum in Bangor. Thanks to a very special Santa and his dedicated elves, children who visited Santa's Village at the Museum could approach Santa at their own speed and comfort level. Santa's unique combination of silliness and fun worked to draw in children who approached with any trepidation! Thanks to Felicia Kasprzak, our volunteer Mom and photographer, parents received a digital photo that captured those golden moments!
In addition to visiting Santa's Village, families attending MAIER's Christmas Event had the opportunity to explore the Maine Discovery Museum at a time when it was closed to other visitors and in the company of other families who might share similar joys and challenges. MAIER sends its heartfelt thanks to the Museum for partnering with us for this annual Christmas event, and to our Santa Roy, and UMaine and MFP volunteers whose time and talents make this event possible!  To read more about this fun event, and see more photos, visit our MFP Events page
Supporting College Students on the Autism Spectrum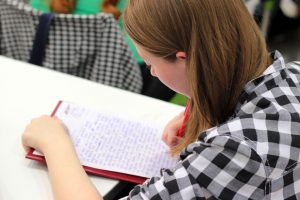 Colleges and Universities across the nation, including the University of Maine, are experiencing an increase in the number of qualified students with autism arriving on campus. While students with autism may access extra support from the Student Accessibility Services and the Trio Program on the UMaine campus, peers, faculty, and others in the campus community may be left with questions. For example, how does autism impact a college student's life, and how can we best support and include these students in the classroom and in the campus community?
In an effort to encourage greater understanding, acceptance, and inclusion of students with autism, the Maine Autism Institute for Education and Research (MAIER) has compiled a listing of online resources for staff, faculty, and peers. Resources for faculty identify many of the unique challenges students with autism may experience in the classroom and suggest specific strategies for classroom management- in written, video, and online learning module formats. The greater campus community can learn more about autism as well, and hear directly from students with autism enrolled at Pace University in a short online video. These resources, developed by autism experts and college autism programs around the country, provide an opportunity for the campus community to support the academic success and social inclusion of our diverse student body.
Check out MAIER's new Resource page: Supporting College Students with Autism on Campus
Announcing MAIER Family Partnership Holiday Event at Maine Discovery Museum
The MAIER Family Partnership (MFP) is joining the Maine Discovery Museum (MDM) in Bangor for some holiday fun on Sunday December 3rd during their regular "My Day to Play" time.  This special event is open to families with a child with ASD, and includes siblings and other family members. Best of all, it is FREE for families attending. Pre-registration for this event is requested, as it helps with our planning.
This year the MFP is planning  "A Visit to Santa's Village" alongside the MDM's usual "My Day to Play"  activities and museum exhibits. The Museum is closed to other visitors at this time, and special adjustments are made to help make it a  sensory friendly environment that your child with ASD, and his/her siblings, can all enjoy.
Our "Sensitive Santa" will again be joining us, along with his elves and other surprises.  This year, we are thrilled be able to offer you a digital photo of your child's visit with Santa- thanks to our faithful Santa Roy, and his very special elf, Felicia.
So email or call today to register for this fun holiday event.
Pre-registering helps us plan our activities, snacks, and volunteers.
Call or email Donna at MAIER:
Email: donna.doherty@maine.edu
Phone: 581-2468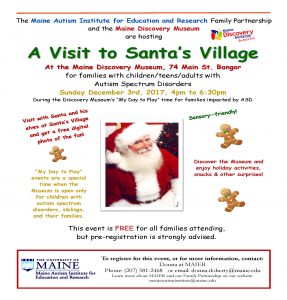 Preparing Your Child for Halloween Fun
Halloween can be an exciting time for children of all ages, and if you have a child with ASD, the anticipation and activities can bring both opportunities for new experiences as well as challenges. With some pre-planning and forethought though, you and your family can make this a special time for all family members. The Autism Society of Maine has gathered some excellent resources for the upcoming "Ghouls Eve" with your families in mind. So check out ASM's webpage "Halloween Fun" for helpful tips and activities to make your holiday a safe and memorable event!
MAIER seeking applicants to join our Early Start Maine team!
The Maine Autism Institute for Education and Research is hiring for our Early Start Maine team.  We are seeking qualified applicants to join our team here at the Maine Autism Institute for Education and Research at the University of Maine.  Selected applicants will receive advanced training in the Early Start Denver Model (ESDM), leading to national certification. Completing the advanced training will lead to employment opportunities with the Maine Autism Institute for Education and Research at the University of Maine, joining our dynamic Early Start Maine team.
For more information about this exciting opportunity, access the electronic application here or contact Deborah L. Rooks-Ellis at: deborah.l.rooks@maine.edu
For more information regarding Early Start Maine, visit our ESM webpages.
Fall 2017 Pathways newsletter now available!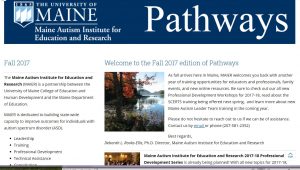 Check out the latest news, information, and resources from MAIER in our fall 2017 issue of Pathways, now available online. Learn about MAIER's professional development activities and opportunities planned for 2017-18, including new workshops, Maine Autism Leader Team trainings, and an exciting offering coming in May 2018. MAIER's professional development offerings  feature state and national experts in the field of autism, and award contact hours and/or CEUs upon request. Be among the first to see our new brochure, "Roadmap to Services," an easy-to-follow guide for families questioning their child's development, available on request. Finally, in the Family Focus section, we share news of MAIER Family Partnership activities and offer new resources especially for families in Maine. Read Fall 2017 Pathways
Registration now open for 2017-18 Professional Development Series: September offerings!
The Maine Autism Institute for Education and Research (MAIER) is pleased to announce we will again be offering our Professional Development Series for educational professionals and support specialists. With all new topics for 2017-18, these workshops feature national and local experts in the field of autism. Don't miss out on September's workshops: "An OT's Guide to Sensory Processing" and "An Educator's Guide to Sensory Processing"! Register today!
Sessions are still the low cost of $30/person per workshop. Open to educators, professionals, families, caregivers, and interested others. FMI on our PD offerings, visit our Professional Development pages or check our PD Calendar
Registration is now open, so register soon!
Coming in May: We are also excited to announce a two-day SCERTS training with Amy Laurent, Ph.D., OTR/L and coauthor of the SCERTS model of training. Read more about this SCERTS training opportunity.
Did you miss out on our 2016-17 PD Series? Last year's nine sessions are still available to view online, at a time of your convenience. Same low price, and contact hours are available. Click here to register online
"Places and Spaces" family resource now online!
Check out MAIER's newest online resource for families, a space dedicated to helping you explore new options for recreation and fun. Developed with the help of MAIER Family Partnership parents and friends, Places and Spaces offers Directory listings of Maine places to visit, a tip sheet for supporting children with autism as they venture out to new places, and additional valuable resources. Help us build our directory listings by submitting your favorite places and events for families impacted by ASD, using our online submission forms! Our thanks to our MFP parents and friends, Diana McFarland, Angela Morse, Jessica Fine, Karen Grotton-Pelletier, and Olivia White for your help in getting this exciting new resource launched! Go to Places and Spaces