MAIER seeking applicants to join our Early Start Maine team!
The Maine Autism Institute for Education and Research is hiring for our Early Start Maine team.  We are seeking qualified applicants to join our team here at the Maine Autism Institute for Education and Research at the University of Maine.  Selected applicants will receive advanced training in the Early Start Denver Model (ESDM), leading to national certification. Completing the advanced training will lead to employment opportunities with the Maine Autism Institute for Education and Research at the University of Maine, joining our dynamic Early Start Maine team.
For more information about this exciting opportunity, access the electronic application here or contact Deborah L. Rooks-Ellis at: deborah.l.rooks@maine.edu
For more information regarding Early Start Maine, visit our ESM webpages.
Fall 2017 Pathways newsletter now available!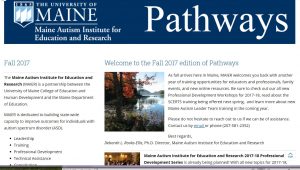 Check out the latest news, information, and resources from MAIER in our fall 2017 issue of Pathways, now available online. Learn about MAIER's professional development activities and opportunities planned for 2017-18, including new workshops, Maine Autism Leader Team trainings, and an exciting offering coming in May 2018. MAIER's professional development offerings  feature state and national experts in the field of autism, and award contact hours and/or CEUs upon request. Be among the first to see our new brochure, "Roadmap to Services," an easy-to-follow guide for families questioning their child's development, available on request. Finally, in the Family Focus section, we share news of MAIER Family Partnership activities and offer new resources especially for families in Maine. Read Fall 2017 Pathways
Registration now open for 2017-18 Professional Development Series: September offerings!
The Maine Autism Institute for Education and Research (MAIER) is pleased to announce we will again be offering our Professional Development Series for educational professionals and support specialists. With all new topics for 2017-18, these workshops feature national and local experts in the field of autism. Don't miss out on September's workshops: "An OT's Guide to Sensory Processing" and "An Educator's Guide to Sensory Processing"! Register today!
Sessions are still the low cost of $30/person per workshop. Open to educators, professionals, families, caregivers, and interested others. FMI on our PD offerings, visit our Professional Development pages or check our PD Calendar
Registration is now open, so register soon!
Coming in May: We are also excited to announce a two-day SCERTS training with Amy Laurent, Ph.D., OTR/L and coauthor of the SCERTS model of training. Read more about this SCERTS training opportunity.
Did you miss out on our 2016-17 PD Series? Last year's nine sessions are still available to view online, at a time of your convenience. Same low price, and contact hours are available. Click here to register online
"Places and Spaces" family resource now online!
Check out MAIER's newest online resource for families, a space dedicated to helping you explore new options for recreation and fun. Developed with the help of MAIER Family Partnership parents and friends, Places and Spaces offers Directory listings of Maine places to visit, a tip sheet for supporting children with autism as they venture out to new places, and additional valuable resources. Help us build our directory listings by submitting your favorite places and events for families impacted by ASD, using our online submission forms! Our thanks to our MFP parents and friends, Diana McFarland, Angela Morse, Jessica Fine, Karen Grotton-Pelletier, and Olivia White for your help in getting this exciting new resource launched! Go to Places and Spaces
Maine Families Participate in Nationwide Autism DNA Study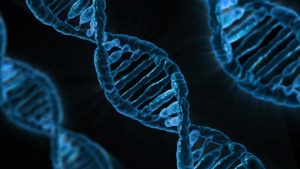 Families across Maine are helping researchers uncover the role genetics play in the development of autism by participating in a nationwide study. Lead investigator, Dr. Matthew Siegel, is heading the research for the Northern New England area, and is currently enrolling new families. Dr. Siegel is based at Maine Behavioral Healthcare in South Portland and the Maine Medical Center Research Institute in Scarborough.
"So often we see studies with limited participants occurring only at large research-type centers or hospitals" noted Deborah Rooks-Ellis, Director of the Maine Autism Institute for Education and Research at the University of Maine. "This study allows [Maine] families to participate from home or by visiting a participating center."
For more information about this study, check out the Bangor Daily News article.
Interested in participating? Learn more here.
Family fun at MAIER Family Partnership "Outdoor Adventure Day!"
The Auburn Lewiston YMCA's Outdoor Education and Learning Center was abuzz with activity on Sunday June 25th when 20 local families impacted by autism gathered for an "Outdoor Adventure Day." Hosted by the Maine Autism Institute for Education and Research (MAIER) Family Partnership program in collaboration with the AL YMCA, this day of outdoor adventure offered families the opportunity to try their hand at Archery, challenge themselves on the Low Ropes and Obstacle courses, and explore other outdoor activities. A visit from the Auburn Fire Department with their ladder truck was a highlight for many as they climbed aboard to "drive" the truck and see fire-fighting equipment up close. Families gathered under the picnic pavilion at noon to enjoy a BBQ lunch together.
Our heartfelt thanks to the local donors who stepped up to make this a free event for local families: Pediatric Associates of Lewiston, Brava Meat Company, Lepage Bakery, Lewiston Hannaford Supermarket, and Walmart Distribution Center #7014 in Lewiston. Thanks as well to our mighty crew of volunteers, Sue, Bob, Skye, Ariel, Sam, Martha & Bella, Nick, the AL YMCA staff, Steve, Will, & Mike, and Krista & Beth from Prudential for providing "ID a Kid" kits free to families attending.
Road Map to Services Brochure now available!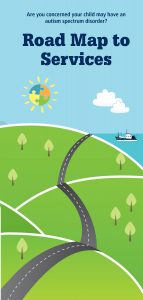 Recognizing the early signs of an autism spectrum disorder (ASD) and knowing how to obtain needed assessments and services can be a daunting task for parents and caregivers. A new brochure produced by the Maine Autism Institute for Education and Research (MAIER), "Road Map to Services," helps guide Maine families through this process.
"Road Map to Services" provides information on the early signs of autism in the areas of communication, social skills, and restrictive or repetitive interests as early as 12-18 months. In addition, it offers guidance to obtaining necessary assessments and to getting connected with related services and supports available in Maine. For parents who are concerned about their child's development, this brochure can provide that important guidance toward obtaining the help and early intervention that will support their child's development.
This colorful and easy-to-read brochure was developed through a partnership with the Maine Department of Education, Office of Special Services, and is available free of charge to any individual or organization in Maine concerned with the development of young children.
Contact MAIER by phone (207-581-2352) or email to order a print copy or to order copies for your office or organization.
Summer Opportunities for K-6th and College students w ASD
Two exciting summer opportunities are available for students with ASD! Please help us spread the word about this Summer internship opportunity for College students with ASD and for "Camp Invention," an inclusive one-week Science camp experience for students K-6th grade in the Bangor area.
For College Students: In partnership with At&T and Launchability, unique summer internships are available within Human Resources or Technology teams. Network with leaders, participate in collaborative projects and help to support communities. Check out the Launchability flyer FMI [PDF] [MSWord] and contact: autismtraining@launchability.org
For K-6th grade students: Do you have a K-6th grade student interested in STEM subjects? Camp Invention is open to children of all abilities, and is taking place July 10-14 at the William S Cohen School in Bangor. The camp is directed by local educators, Barbara Clewley and Martha Gladstone.
The camp uses positive behavior supports, and the Directors are willing to meet students prior to camp to discuss needs for a successful experience. Parents/caregivers are encouraged to speak with the camp directors to determine if this camp experience would be right for your child. To learn more, download this flyer and contact Martha by phone or email .
Martha Gladstone, M. Ed., CAS
Phone: 207-385-7478
email: mgladstone1959@gmail.com
Sesame Street's "See Amazing in all Children" Initiative
Sesame Street welcomed a new muppet to their neighborhood this year as part of their "See Amazing in all Children" initiative. Julia, a four-year-old muppet with autism, "is a natural extension to Sesame Street's long-standing message that we are all different but the same." In addition to the role Julia will play on the show, online resources are available for families and providers to increase acceptance and reduce the isolation and stigma experienced by children and families impacted by autism. Online resources include daily routine cards, tips and suggestions for supporting siblings and talking with peers, videos, e-books and books. Developed for children, families, caregivers, and childcare providers, resources are available in both English and Spanish. Check out this great new resource by visiting the Sesame Street "See Amazing in All Children" webpages.
Swim & Gym at WC YMCA!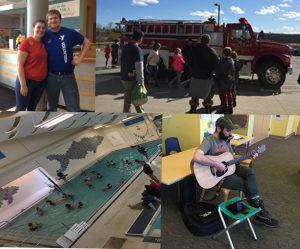 Belfast area families arrived promptly at 2 o'clock with bathing suits in hand to enjoy a special afternoon of swimming and play at the Waldo County YMCA in Belfast. Hosted by the Maine Autism Institute for Education and Research Family Partnership, this afternoon was all about family fun and togetherness, with special supports, accommodations, and activities for children impacted by autism spectrum disorders and their siblings.
Special thanks to all the families who joined us on Sunday, and a grateful "job well done!" to the WC YMCA and their incredible staff, especially Carolyn Steeves, Aquatics Director at the YMCA, who helped make this event possible. Thanks go out to our faithful UMaine student volunteers, Martha, Olivia, Madi, Chelsea, Katrina, Jenica, Emily & Lena. Your playful attitude with the children and assistance to the families attending was much appreciated! Read more