Aquatic Animal Health Laboratory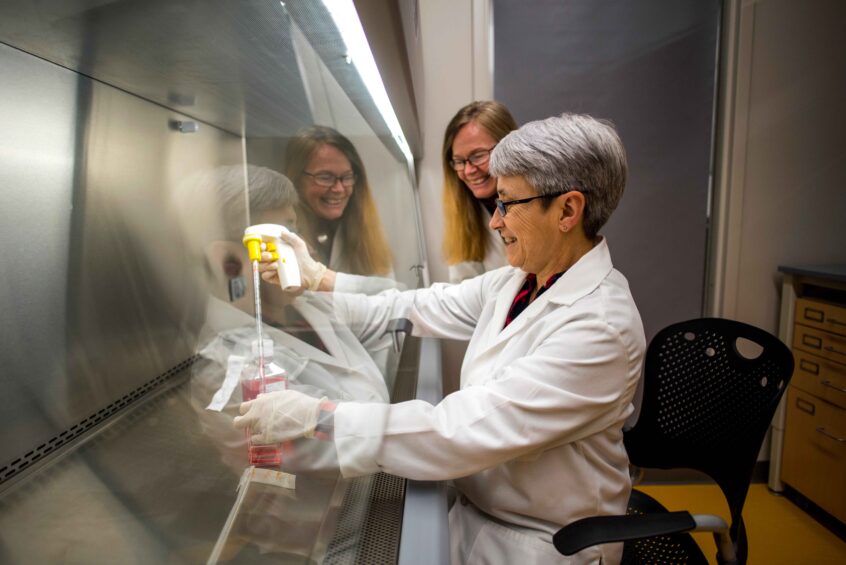 Dry Laboratory Space 
The DRL has over 1,000 square feet of modern dry laboratory space for virology, cell culture, bacteriology, immunology, histology, parasitology, and molecular biology. Major equipment items include:
Facscalibur flow cytometer, 

Real time PCR capability, 

BSL2 and BSL 3 microbiology capability, 

Full cell culture suite, 

Qiacube DNA robot, 

PAGE electrophoresis, 

LabAnalyzer,

ISH and histological staining, 

Fluorescent, compound, inverted and dissecting microscopes 

Access the UMaine DNA sequencing facility

Dedicated PCR clean room and a Class II Biological Safety Cabinet for Isolation

Bio-Rad CFX 96 qPCR machine, 

Thermo Fisher QuantStudio 5 qPCR machines, 

Bio-Rad C1000 traditional thermal cyclers, 

Thermo Fisher/Applied Biosystem SeqStudio Sanger Sequencing machine with 4 capillary arrays
A suite of PC and Mac computers handles the data generated from experiments and is backed up locally and on a dedicated remote server.
Wet Laboratory Space
Housed within the DRL, the Aquatic Animal Health Laboratory (AAHL) is a 2,150 square foot biosecure containment facility. The biosecure facility consists of two aquaria wet labs, 2 anterooms, and a dedicated necropsy suite all within a Biosafety Level 3 facility with associated required air handling. 
Laboratory 1 is fully temperature and light period controlled and can carry out aquatic disease trials in small systems (up to forty-eight 10 gallon tanks). Laboratory 2 is a larger disease challenge facility again fully temperature and light period controlled. This laboratory can accommodate up to twenty-one 135 gallon tanks. The recirculating systems have inline UV for disinfection units.
Water makeup room and water storage
The AAHL water and storage are in a dedicated room outside of the aquaria suites with direct lines feeding each of the aquaria wet labs. The facility has access to groundwater, reverse osmosis water, and artificial sea water. The water makeup systems and storage tanks are in a dedicated room outside of the biosecure aquaria suites
Heating/Chilling
Both study rooms can have water chilled or heated and the room can be chilled or heated as well.
Wastewater disinfection and decontamination system
The AAHL is equipped with sophisticated chemical kill system (The Practical Applications, Inc. (PAI) Model# 3401 Chemical Kill System) approved for BSL3 pathogens (Figure 6). The system is designed to chemical treat wastewater generated from the aquaria labs prior to sewer discharge. The model is designed to treat a maximum of 4500 gallons per day and consists of two batch wastewater treatment tanks, two mixers, two discharge pumps, two reagent pumps and storage tanks with secondary containment, one ORP & pH probe, and residual chlorine analyzer. A main control panel provides centralized system control via an interactable touch screen. The system will batch process and discharge chemically treated wastewater automatically. Wastewater is pumped into the system via the trench pumps in the aquatics lab. Upon reaching the operator specified level, the system enters treatment mode. The wastewater is transferred to the treatment tank from the storage tank for treatment. Once the settable batch level is reached, the water is mixed. Acid is added automatically until the pH setpoint is reached and sodium hypochlorite is injected until the ORP setpoint of 650 to 750 mV is reached. The system then maintains that setpoint for a user settable dwell time before discharging the contents to the sewer.
Air handling
The AAHL facility has an advanced air handling system with directional airflow that keeps the entire facility under negative pressure from the remainder of the DRL. Air is filtered through a series of HEPA filters to ensure efficient removal of contaminants from the air and does not re-circulate to any other area of the building. The housing is supported by gas-tight isolation dampers, decontamination ports, and bag-in/bag-out capability to further ensure proper decontamination. Additionally, the system is designed to precisely control the individual temperatures of the laboratories to support aquatic animals in a wide range of temperatures.
Adjacent Laboratories
The DRL is home to the UMaine High Containment Biological Facility (HCBF). The facility is able to support research up to a BSL3 level and is directed connected to the AAHL. Much like the AAHL, the entire HCBF operates under negative pressure and has a separate HEPA-protected air handling system to prevent contamination. The HCBF has three separate laboratory suites, each equipped with 2 large Class II Biological Safety Cabinets. A pass-through autoclave is also present to facilitate sterilization, decontamination, and removal of items from the facility. The exiting antechamber for the HCBF is furnished with a full shower for safety and biosecurity purposes.
Backup generator: 
The entire AAHL facility has its own life support systems and a back-up electrical supply. A dedicated generator with 150KW (3 phase power) ensures operation of the aquaria rooms, support equipment and air handling in the case of grid disruption.
Education/WFD programs description
Commercialization description
---